MBBS From St John's Medical College, Bangalore : An Overview
Steps to get MBBS From St John's Medical College, Bangalore
Overview
The corner stone of the Medical College was blessed by Pope Paul VI in Bombay during the Eucharist Congress in 1964 and was laid at the project site on 27 July 1965 by Shri V.V. Giri, the Governor of Karnataka and later the President of India. On the completion of the buildings, the College was dedicated to the cause of Medical Education, Research and Healthcare on 29 September 1968 at a ceremony presided over by the President of India, Dr. Zakir Hussain. In June 1968, the College moved from its temporary premises of St. Mary's Industrial School and Orphanage to its 140-acre campus in Koramangala, Bengaluru.
Initially St. Martha's Hospital served as the clinical facility of the Medical College. In the year 1975, the newly constructed St. John's Medical College Hospital became operational on the College Campus. St. John's College of Nursing started as a School of Nursing on July 1, 1980. It was raised to the status of a College of Nursing on September25, 1989, and conducts various nursing courses.
For the last ten years, St. John's Medical College has consistently been ranked among the top 10 medical colleges in the country. The National Assessment and Accreditation Council, a Review Committee of the University Grants Commission, has recognized the excellence of St. John's Medical College and Hospital and accorded it with a 5 star grading. MBBS From St John's Medical College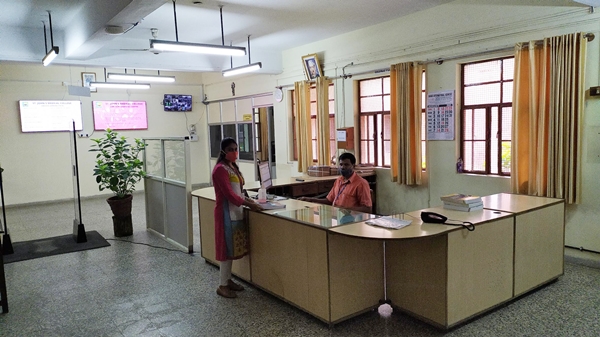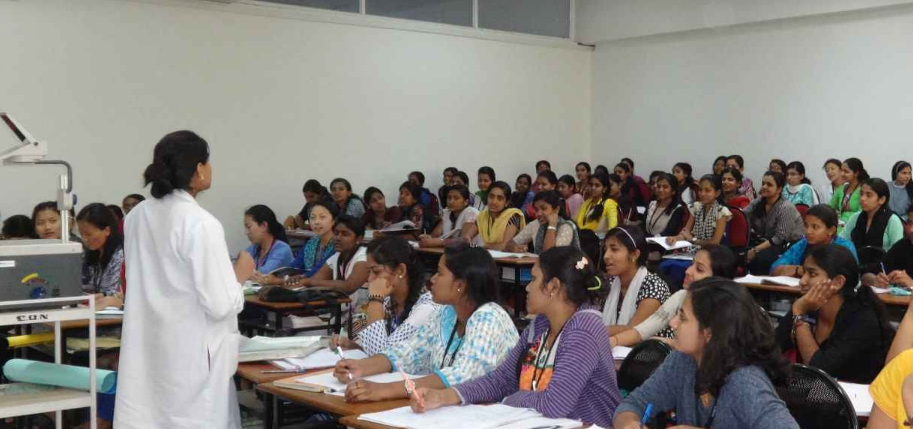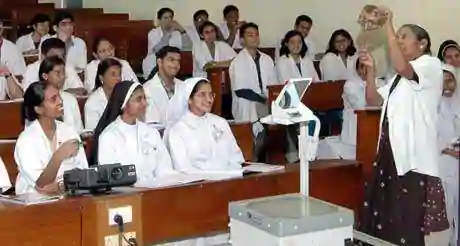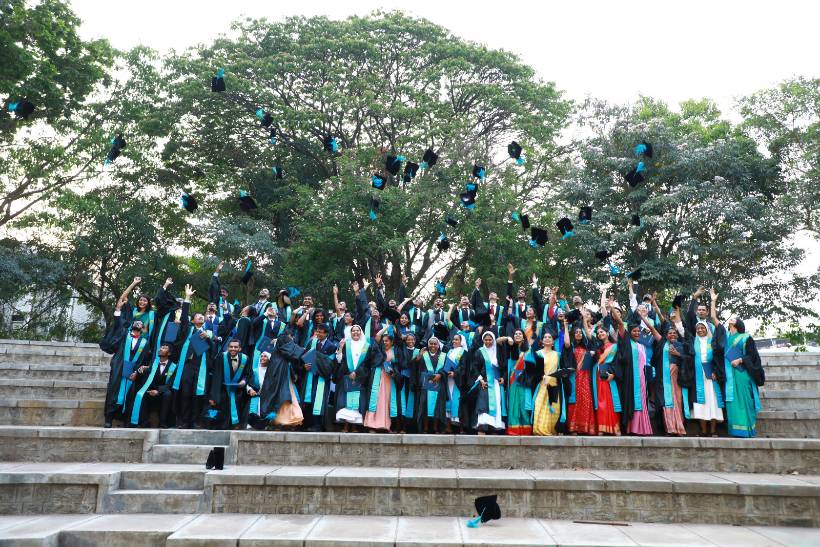 Courses Offered in St John's Medical College,  Bangalore
To get MBBS from St John's Medical College provides undergraduate and postgraduate programmes in various streams with highly qualified faculties. MBBS From St John's Medical College offers a program having a duration of 4.5 years along with 1 year internship. After passing the final MBBS examination students must have temporary registration from Karnataka Medical Council and full registration after completing one year internship. The total intake for the programme is 100 seats. The eligibility criteria for securing a seat for the MBBS course are:
Candidates must have completed 10+2 or equivalent examination conducted by Rajiv Gandhi University of Health Sciences, Bangalore with a 50% aggregate in Biology, Physics and Chemistry with English as a compulsory language. The candidate is finally selected on the basis of the marks secured by them in the in NEET UG.
MBBS From St John's Medical College
The Department of MBBS From St John's Medical College are categorized into three phases as per Medical Council of India (NMC) and Rajiv Gandhi University of Health Sciences guidelines for MBBS course. They are referred as Pre-clinical, Para-clinical and Clinical Departments. 
Anatomy
Anesthesiology
Biochemistry
Community Medicine
Cardiology
Cardiothoracic And Vascular Surgery
Clinical Hematology
Critical Care Medicine
Dermatology & Venereology
Endocrinology
Forensic Medicine
General Medicine
General Surgery
Gastroenterology
Gynaecological Oncology
Medical Education
Microbiology
Neonatology
Neurology
Neurosurgery
Neurology
Nephrology
Neonatology
Pediatric Nephrology
Pediatric Intensive Care
Pediatric Surgery
Plastic Surgery
Physiotherapy
Psychiatry
Pulmonary Medicine
Obstetrics and Gynecology
Ophthalmology
Orthopedics
Radio-Diagnosis
Surgical Oncology
Urology
Get in touch with our Experts
To know more about Admission Process and to get Free Admission Guidance!
MBBS From St John's Medical College  Syllabus
Phase
Semester
Subjects Taught
Pre-clinical
                 1-2                       Two Semesters
Anatomy, Biochemistry, Physiology
Para-clinical
               3-4-5                       Three Semesters
Community Medicine; Forensic Medicine, Pathology, Pharmacology, Microbiology, Clinical postings inwards, OPDs to begin here
Clinical
             6-7-8-9                  Four Semesters
Community Medicine, Medicine and allied subjects (Psychiatry, Dermatology); Obst. Gynae.; Pediatrics; Surgery and allied subjects
(Anesthesiology, E.N.T., Ophthalmology, Orthopaedics);
Clinical postings;
Internship Structure Of MBBS From St John's Medical College
| | |
| --- | --- |
| Subjects | Duration |
| Community Medicine              | 2 months |
| Medicine including Psychiatry | 2 months |
| Surgery including Anaesthesia | 2 months |
| Obstetrics/Gynecology including Family Welfare Planning | 2 months |
| Paediatrics | 1 month |
| Orthopaedics including PMR | 1 month |
| E.N.T | 15 days |
| Ophthalmology | 15 days |
| Casualty | 15 days |
| Elective posting | 15 days |
| Total | 12 months |
Documents Required for Admission
MBBS From St John's Medical College Admission Under General Merit Category:
All Original Documents along with 3 sets of attested copies.
NEET Admit Card
Scorecard or Rank Letter
Class 10 certificate and marks sheet (for date of birth)
Class 12 certificate and mark sheet
Transfer certificate issued by the institution last studied.
ID proof (Aadhar/P.A.N Card/Driving License/Passport)
Eight passport-size photographs
Provisional Allotment Letter
Caste Certificate (if applicable)
PwD Certificate (if applicable)
MBBS From St John's Medical College Admission Under NRI Quota:
10th Standard marks list or pass certificate for proof of date of birth. (Original copy and 3 attested copies should be provided)
12th Standard or equivalent marks card and pass certificate. (Original copy and 3 attested copies should be provided)
Transfer Certificate. (Original copy and 3 attested copies should be provided)
Conduct Certificate. (Original copy and 3 attested copies should be provided)
Eligibility Certificate approved by RGUHS.
Migration Certificate. (Original copy and 3 attested copies should be provided)
Physical Fitness. Blood Group Certificate.
Photographs – 5 Passport Size and 5 Stamp Size.
Proof of Employment of Parent.
Original Passport and ID Proof.
Letter of sponsorship. (Original copy and 5 copies should be provided)
A residential permit from local SP and FRO.
No Objection Certificate from the Ministry of Health if applicable.
Fee Structure For MBBS From St John's Medical College
Total number of seat for MBBS From  St John's Medical College  is categorically divided into government seats, private seats, NRI seats and other seats. The fee structure for the same is given as below; (Based on 2021 fee structure)
| | | | | |
| --- | --- | --- | --- | --- |
|   | Tuition Fee | Registration Fee | KEA | Total |
| Government Seats | _____ | _____ | _____ | _____ |
| Private Seats | _____ | _____ | _____ | _____ |
| NRI Seats | _____ | _____ | _____ | _____ |
| Other Seats | _____ | _____ | _____ | _____ |
St John Medical College Provided
The college has modern academic facilities including well lit, spacious airconditioned class rooms, modern seating system and state of the art audiovisual aids. To enhance the learning process, classrooms have projection software to visualize and understand the complex processes in medicine. College auditoriums equipped with modern audiovisual aids to conduct seminars , conferences , Laboratories are well equipped for teaching practical aspects of subjects. Departments have museums pertaining to respective subjects which are curated and catalogued so that students can utilize them for self-directed learning. The college has its own teaching hospital with adequate infrastructure, clinical material and staff. Students are also exposed to primary and secondary healthcare through outreach facilities. The examination hall is very spacious, adequately equipped and secured for conducting University examinations. It has inbuilt secretarial services.
The Central library was initially housed on the first floor of St. John's Medical College building with a huge area provided for stocking books, back volumes of periodicals and current journals. During the early period (1974) a branch the Library was housed at St. Martha's Hospital, catering to the needs of the staff of St. John's Medical College, Registrars, Students, and Interns. The library was taken by staff in-charge, a clerk and helper attached to St. John's Medical College. The Library was kept open for a few hours and the borrowing facility was provided only to the members of SJMC. But the reference services were continued to the Staff of St. Martha's Hospital, as well large number of students from various Medical Institutions and Medical Practitioners from in and around Bangalore. This library was shifted to St. John's Medical College in the year 1981, when all the clinical departments were shifted to St. John's Medical College Hospital leaving behind 75% of books, Journals, and furniture at St. Martha's.
The new building consists of 2 floors; reference books are stocked on the ground floor, while the lending section, current periodicals and back volumes of five years are stocked on the first floor. Both the floors have adequate reading area. Space has also been provided for Audio-visual Aids, Microfilms and Seminar room. The library is kept open 14 hours during weekdays, 12 hours on Saturdays and 4 hours on Sundays and Hospital working days and College Holidays.
On 8th March 2016, the Golden Jubilee block was inaugurated. In the first-floor personal book reading section has been provided for our UG and PG students. The section is kept open till 11 pm and during the examination time it kept open 24 hours. The back volumes of bound journals and Serial publications are stocked in Golden Jubilee Block Lecture theatre – 1 basement
The institute provides hostel facitlites to all its students. The hostels are located on campus and have easy access to the college facilities. Each hostel is supervised by a resident warden who is a teaching faculty of the institute or part of the administrative committee. The warden is available on campus at all times and can be approached by the students at any time and forms the first point of contact for redressal of students' grievances. The admission to the hostel is streamlined through an online application process (on admission) and approved immediately through the associate director's offices. Hostelites have access to a hostel manger for their room maintainences needs.
The idea of a simulation centre for the institution was envisioned during the planning of the institutional golden jubilee celebrations during 2013. Initial plans were put in place by a committee headed by Dr Sanjiv Lewin and Dr Swarna Rekha in 2013 to cater to the needs of undergraduate and postgraduate students. The implementation gained momentum under the leadership of the Director Rev Fr Dr Paul Parathazham and Associate Director for College, Rev Fr Duming Dias. In 2017, Dr John Stephen was appointed as the head of a team to coordinate and facilitate the setting up of the Clinical Skills Lab and Simulation Centre. Dr. Jui and Dr. Nachiket were appointed as coordinators of the Simulation Centre. Their dreams came to fruition on 7th February 2018 when the simulation centre was formally inaugurated.
Skills training was successfully incorporated into the MBBS curriculum from August 2018 onward. The centre also started conducting workshops for both in-house participants and those from other institutions. In November 2019, St. John's partnered with Laerdal to host an international conference on simulation. In 2019, 51 training sessions were conducted for undergraduate students and 37 sessions for interns, postgraduate students and faculty.
For the convenience of students and faculty staying off-campus, Medical college and Research hospital has a fleet of 10 buses that ferry them to and fro. The buses traverse the city and suburbs and routes are planned to provide maximum convenience to students and staff. Additionally, the college is also well connected to the bus services and a major metro station that is located few kms away from the campus is under commission.
A cafeteria with modern facilities is available within the campus and is open for staff and students. it is open till late hours and serves healthy and hygienic food at affordable prices.
There is a Auditorium in the campus equipped with the slide and multimedia projectors.
Students don't just excel in the classrooms but in the sports field too. The outstanding facilities for indoor and outdoor games include tennis, badminton, basketball and volleyball courts and grounds for field events. A distinguished Sports director who has made his mark nationally, and an unwavering focus on healthy competition and sportsmanship have seen our teams winning laurels time and again
Other Facilities
Medical
Computer labs
Laboratory
Hospital
OPD
Centre for Community Medicine
Blood Bank
Get in touch with our Experts
To know more about Admission Process and to get Free Admission Guidance!