MBBS From Basaveshwara Medical College, Chitradurga : An Overview
Steps to get MBBS From Basaveshwara Medical College, Chitradurga 
Overview
The SJM Vidyapeetha started Basaveshwara Medical College in the backward district Chitradurga, to reach the medical education to the un reached in particular and the development of this backward region in general, in the year 2001-02.
Today it is a full-fledged college with required physical and human infrastructure as required by the Medical Council of India and Rajiv Gandhi University of Health Sciences. The Hospital, including the urban and rural health centres, is developed not merely with an intension to provide teaching material to students but also with the social commitment of providing health care to the common folk of the district. It is the only medical college functioning in the entire district. Students from all parts of the country are undergoing medical education imparted on spiritual and moral base.
The college has well designed building for teaching, administration and hospital purposes. It has a rich logistic infrastructure to ensure best teaching and learning environment. Indoor and out door sports buildings are provided to keep the students and staff physically fit. Hospital is made to function as required according to the norms of Medical Council of India and Rajiv Gandhi University of Health Sciences. No stone is left unturned to recruit and motivate the teaching and non teaching faculty both at college and in the hospital.
The College is Affiliated to Rajiv Gandhi University of Health Sciences Bangalore and Recognised by Medical Council of India, New Delhi. It is also a Member of Comed.K Group. MBBS From Basaveshwara Medical College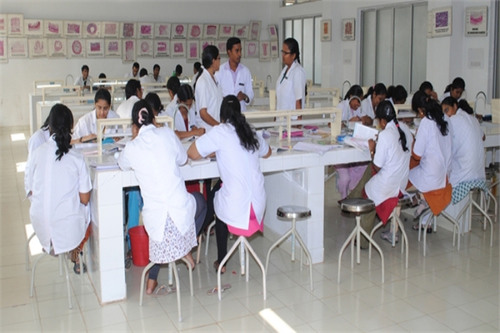 Courses Offered in Basaveshwara Medical College,  Bangalore
To get MBBS from Basaveshwara Medical College provides undergraduate and postgraduate programmes in various streams with highly qualified faculties. MBBS From Basaveshwara Medical College  offers a program having a duration of 4.5 years along with 1 year internship. After passing the final MBBS examination students must have temporary registration from Karnataka Medical Council and full registration after completing one year internship. The total intake for the programme is 100 seats. The eligibility criteria for securing a seat for the MBBS course are:
Candidates must have completed 10+2 or equivalent examination conducted by Rajiv Gandhi University of Health Sciences, Bangalore with a 50% aggregate in Biology, Physics and Chemistry with English as a compulsory language. The candidate is finally selected on the basis of the marks secured by them in the in NEET UG.
MBBS From Basaveshwara Medical College Departments
The Department of MBBS From Basaveshwara Medical College are categorized into three phases as per Medical Council of India (NMC) and Rajiv Gandhi University of Health Sciences guidelines for MBBS course. They are referred as Pre-clinical, Para-clinical and Clinical Departments. MBBS from Basaveshwara Medical College
Anatomy
Anesthesiology
Biochemistry
Community Medicine
Dermatology & Venereology
Emergency Medicine
Forensic Medicine
General Medicine
General Surgery
Gastroenterology
Gynaecological Oncology'
Medical Education
Microbiology
Pediatric 
Physiotherapy
Psychiatry
Pulmonary Medicine
Obstetrics and Gynecology
Ophthalmology
Orthopedics
Radio-Diagnosis
Respiratory Medicine
Get in touch with our Experts
To know more about Admission Process and to get Free Admission Guidance!
MBBS From Basaveshwara Medical College  Syllabus
Phase
Semester
Subjects Taught
Pre-clinical
                 1-2                       Two Semesters
Anatomy, Biochemistry, Physiology
Para-clinical
               3-4-5                       Three Semesters
Community Medicine; Forensic Medicine, Pathology, Pharmacology, Microbiology, Clinical postings inwards, OPDs to begin here
Clinical
             6-7-8-9                  Four Semesters
Community Medicine, Medicine and allied subjects (Psychiatry, Dermatology); Obst. Gynae.; Pediatrics; Surgery and allied subjects
(Anesthesiology, E.N.T., Ophthalmology, Orthopaedics);
Clinical postings;
Internship Structure Of MBBS From Basaveshwara Medical College
| | |
| --- | --- |
| Subjects | Duration |
| Community Medicine              | 2 months |
| Medicine including Psychiatry | 2 months |
| Surgery including Anaesthesia | 2 months |
| Obstetrics/Gynecology including Family Welfare Planning | 2 months |
| Paediatrics | 1 month |
| Orthopaedics including PMR | 1 month |
| E.N.T | 15 days |
| Ophthalmology | 15 days |
| Casualty | 15 days |
| Elective posting | 15 days |
| Total | 12 months |
Documents Required for Admission
MBBS From Basaveshwara Medical College  Admission Under General Merit Category:
All Original Documents along with 3 sets of attested copies.
NEET Admit Card
Scorecard or Rank Letter
Class 10 certificate and marks sheet (for date of birth)
Class 12 certificate and mark sheet
Transfer certificate issued by the institution last studied.
ID proof (Aadhar/P.A.N Card/Driving License/Passport)
Eight passport-size photographs
Provisional Allotment Letter
Caste Certificate (if applicable)
PwD Certificate (if applicable)
MBBS From Basaveshwara Medical College  Admission Under NRI Quota:
10th Standard marks list or pass certificate for proof of date of birth. (Original copy and 3 attested copies should be provided)
12th Standard or equivalent marks card and pass certificate. (Original copy and 3 attested copies should be provided)
Transfer Certificate. (Original copy and 3 attested copies should be provided)
Conduct Certificate. (Original copy and 3 attested copies should be provided)
Eligibility Certificate approved by RGUHS.
Migration Certificate. (Original copy and 3 attested copies should be provided)
Physical Fitness. Blood Group Certificate.
Photographs – 5 Passport Size and 5 Stamp Size.
Proof of Employment of Parent.
Original Passport and ID Proof.
Letter of sponsorship. (Original copy and 5 copies should be provided)
A residential permit from local SP and FRO.
No Objection Certificate from the Ministry of Health if applicable.
Fee Structure For MBBS From Basaveshwara Medical College
Total number of seat for MBBS From  Basaveshwara Medical College  is categorically divided into government seats, private seats, NRI seats and other seats. The fee structure for the same is given as below; (Based on 2021 fee structure)
| | | | | |
| --- | --- | --- | --- | --- |
|   | Tuition Fee | Registration Fee | KEA | Total |
| Government Seats | _____ | _____ | _____ | _____ |
| Private Seats | _____ | _____ | _____ | _____ |
| NRI Seats | _____ | _____ | _____ | _____ |
| Other Seats | _____ | _____ | _____ | _____ |
Basaveshwara Medical College Provided
The college has modern academic facilities including well lit, spacious airconditioned class rooms, modern seating system and state of the art audiovisual aids. To enhance the learning process, classrooms have projection software to visualize and understand the complex processes in medicine. College auditoriums  equipped with modern audiovisual aids to conduct seminars , conferences , Laboratories are well equipped for teaching practical aspects of subjects. Departments have museums pertaining to respective subjects which are curated and catalogued so that students can utilize them for self-directed learning. The college has its own teaching hospital with adequate infrastructure, clinical material and staff. Students are also exposed to primary and secondary healthcare through outreach facilities. The examination hall is very spacious, adequately equipped and secured for conducting University examinations. It has inbuilt secretarial services.
 Basaveshwara Medical College and Hospital Central Library. The central library and information centre is located in college main building out of three floor of library. Central library is well equipped with medical books, periodicals, CD's, DVDs, bound volumes, national and international journals. The digital library facilities also include HELINET. The centrally air conditioned and automated library complements the rich learning experience. Library has 17,825 books which comprises of text and reference books in all medical specialties, 150 subscribed print journals (national and international) and e-resources including full text and the bibliographical online database for health & allied science. The library has been automated with integrated library management software, 'NewGenLib Lib' and provides access to its collection through online public access catalog (OPAC). The library user's entry tracking through the biometric system. Apart from the central library every department maintains its own departmental library facility for their staff and PG students. Also one reading library is established in the hospital block to support the PG Students and faculty
Separate Hostels for Boys & Girls are provided in BMCH, SJM Campus at Chitradurga. The institute provides hostel facitlites to all its students. The hostels are located on campus and have easy access to the college facilities. Each hostel is supervised by a resident warden who is a teaching faculty of the institute or part of the administrative committee. The warden is available on campus at all times and can be approached by the students at any time and forms the first point of contact for redressal of students' grievances. The admission to the hostel is streamlined through an online application process (on admission) and approved immediately through the associate director's offices. Hostelites have access to a hostel manger for their room maintainences needs. MBBS from Basaveshwara Medical College
BMCH owns 15 buses to ferry students from the hostels to the hospital and to other peripheral rural health centres for the purposes of teaching and training programmes. 3 vans are available for the staff and the students who provide community healthcare services. 5 ambulances are attached to AH & RC, which are made available round-the-clock, and each one of them is equipped with cardiopulmonary resuscitators with trained and qualified medical and paramedical staff, emergency drugs and oxygen cylinder. Being a referral hospital, the ambulance service is made use of to bring the patients from the neighbouring hospitals and districts. Educational tours are conducted periodically by using the college omnibus services.
A cafeteria with modern facilities is available within the campus and is open for staff and students. it is open till late hours and serves healthy and hygienic food at affordable prices.
A well-equipped auditorium with seating for over 400 people serves as the venue for the regular conferences, workshops and seminars that are part of the learning process at Basaveshwara Medical College & Hospital. A Medical Education Department setup with the objective of enhancing quality of education, dedicates itself to implementing continuous improvement in standards.
It is a venue for cultural activities it is also designed to accommodate sporting activity and games.
The auditorium is spacious, well ventilated and furnished halls. It also offers facilities such as LCD and OHP projectors, screens, white-boards for delivering lectures.
Healthy body is one of the pre-requisites for overall personality development of students in an educational institution. Our Management,  SJM Vidyapeetha, Shree Murugha Mata has magnanimously provided all facilities and thus created environment conductive for the development of sound body in SJM BMCH Campus. Inspired by Olympic statement "the most important thing in sports is not to win but to take part, just as most important things in life is not the triumph but the struggle." and the advice of the Secretary Sri. Paramashivayya M. J. & the encouragement of our Principal Dr. Prashanth G.
Physical fitness constitutes the vital part of the total fitness, i.e. intellectual, social, spiritual, and physical components. Good physical fitness is an indispensable component of overall wellbeing among the population of every civilized society. Positive & Attitude, Self-Confidence and Motivation are key success. Students have performed well and emerged victorious in many competitions conducted by RGUHS Belgaum Zone, Inter Zone, State Level and Open Tournaments.  Dr. Abhaya Prakash C.  Physical Education Director, heads of the department.
Outdoor Facilities
Our institute has 200 mts track with six lanes non standard track, one concrete court of Basketball, two volleyball courts, two throw ball courts, two cricket grounds, two football fields, two hockey fields, two kho-kho courts & a tennis court (Clay).
Indoor Facilities
One badminton court, table tennis, board facilities to play chess and carom, well equipped gymnasium
Other Facilities
Medical
Computer labs
Laboratory
Hospital
OPD
Centre for Community Medicine
Blood Bank
Get in touch with our Experts
To know more about Admission Process and to get Free Admission Guidance!