MBBS From GR Medical College : An Overview
Steps to get MBBS From GR Medical College.
Overview
GR Medical College The Institute owns a multi-specialty Hospital and other ancillary medical amenities, as stipulated by the Medical Council of India (MCI)/NMC. The Institute also has a well-equipped, hi-technology Research and Learning centre, which dove-tail into the post-graduate education programmes which are on the anvil.
GR Medical College is Estabilished  2021
Known for higher education and uncontrolled learning facilities, students from all over India and from overseeing the College offer courses leading to Medicine, Nursing and Dental Care.
GR Medical College is one of the leading Medical colleges in Karnataka. GR Medical College is affiliated with Rajiv Gandhi University of Health Sciences and approved by the NMC. The Medical Institute is Sprawled over a lush green area of 32 acres; the College is housed in several buildings, which stand over a total space of 12,00,000sq.ft.
Faculty & Staff
This College provides a good ratio of well-trained and highly educated faculty members equipped with modern technology. It also provides sufficient numbers of non-technical staff to provide an ambience of self-learning to the students.  they are responsible for contributing to and sustaining the standards of medical education in the institution. All the faculty of the campus comply with the relevant policies, which are given below:
Describe appropriate care based on the best available scientific evidence.
Reduce inappropriate variation in value-based practices
Provide more rational and practical behaviour towards the subject Taught.
Focussing more and more on continuing education
To promote efficient use of available resources
To act as the focus for quality control, including audit
To highlight shortcomings of existing literature and suggest appropriate future
Get in touch with our Experts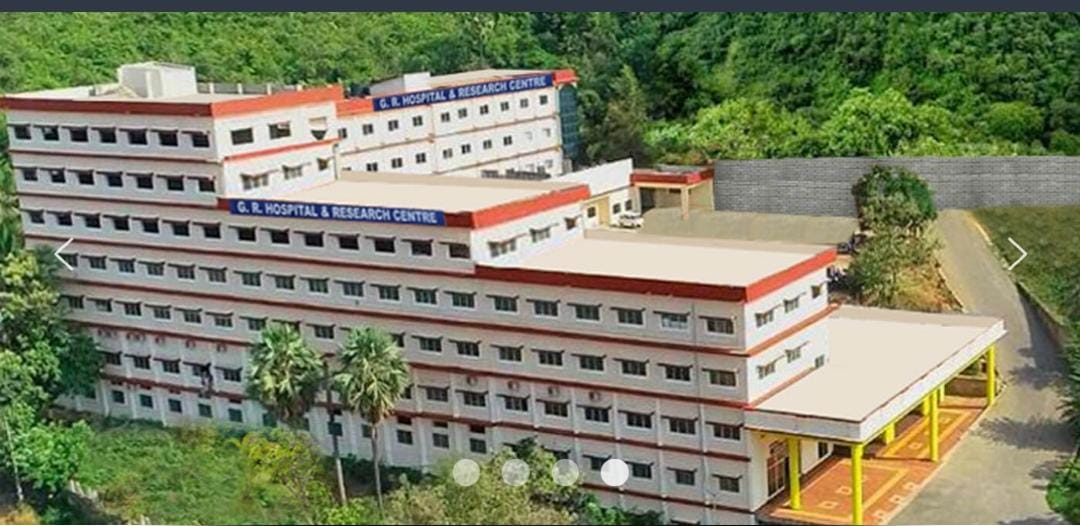 Courses Offered in GR Medical College Departments
To get MBBS From GR Medical College provides undergraduate and postgraduate programmes in various streams with highly qualified faculties. GR Medical College offers a MBBS program having a duration of 4.5 years along with 1 year internship. After passing the final MBBS examination students must have temporary registration from Karnataka Medical Council and full registration after completing one year internship. The total intake for the programme is 150 seats. The eligibility criteria for securing a seat for the MBBS course are:
Candidates must have completed 10+2 or equivalent examination conducted by Rajiv Gandhi University of Health Sciences, Bangalore with a 50% aggregate in Biology, Physics and Chemistry with English as a compulsory language. The candidate is finally selected on the basis of the marks secured by them in the in NEET UG.
MBBS From GR Medical College
1. Every student shall undergo a period of certified study extending over 4 ½ academic years from the date of commencement of his study for the subject comprising the medical curriculum to the date of completion of the examination followed by one year of compulsory rotating internship. The 4 ½ years course has been divided into three phases.

Phase I 1 year, consisting of two terms of 6 months each.

Phase II 1 ½ years, consisting of three terms of 6 months each.

Phase III 2 years, after phase II, consisting of four terms of 6 months each.
2. The first year (phase I —pre-clinical) shall deal with the subjects of Human Anatomy, Physiology, including Biophysics, Bio-Chemistry and an introduction to community medicine.
3. After passing pre-clinical subjects in phase I, Phase II (3 terms —1 ½ year), dealing with Para clinical subjects. Para Clinical subjects shall consist of Pathology, Pharmacology, Microbiology, Forensic Medicine including Toxicology and part of community medicine. During this phase, the clinical subjects shall be taught concurrently. The clinical subjects taught will be obstetrics and Gynecology, Medicine, Surgery and their allied specifications respectively.
4. Phase III consists of clinical subjects, Medicine and its allied specialties Surgery and its allied specialties, pediatrics, Obstetrics and Gynecology and Community Medicine.
MBBS From GR Medical College
Phase
Semester
Subjects Taught
Pre-clinical
                   1-2                       Two Semesters
Anatomy, Biochemistry, Physiology
Para-clinical

                  3-4-5                     Three Semesters

Community Medicine; Forensic Medicine, Pathology, Pharmacology, Microbiology, Clinical postings inwards, OPDs 
Clinical
                6-7-8-9                        Four Semesters
Community Medicine, Medicine and allied subjects (Psychiatry, Dermatology); Obst. Gynae.; Pediatrics; Surgery and allied subjects
(Anesthesiology, E.N.T., Ophthalmology, Orthopaedics);
Clinical postings
Internship Structure Of MBBS From GR Medical College
| | |
| --- | --- |
| Subjects | Duration |
| Community Medicine              | 2 months |
| Medicine including Psychiatry | 2 months |
| Surgery including Anaesthesia | 2 months |
| Obstetrics/Gynecology including Family Welfare Planning | 2 months |
| Paediatrics | 1 month |
| Orthopaedics including PMR | 1 month |
| E.N.T | 15 days |
| Ophthalmology | 15 days |
| Casualty | 15 days |
| Elective posting | 15 days |
| Total | 12 months |
Get in touch with our Experts
Documents Required for Admission
MBBS From GR Medical College Admission Under General Merit Category:
All Original Documents along with 3 sets of attested copies.
NEET Admit Card
Scorecard or Rank Letter
Class 10 certificate and marks sheet (for date of birth)
Class 12 certificate and mark sheet
Transfer certificate issued by the institution last studied.
ID proof (Aadhar/P.A.N Card/Driving License/Passport)
Eight passport-size photographs
Provisional Allotment Letter
Caste Certificate (if applicable)
PwD Certificate (if applicable)
MBBS From GR Medical College. Admission Under NRI Quota:
10th Standard marks list or pass certificate for proof of date of birth. (Original copy and 3 attested copies should be provided)
12th Standard or equivalent marks card and pass certificate. (Original copy and 3 attested copies should be provided)
Transfer Certificate. (Original copy and 3 attested copies should be provided)
Conduct Certificate. (Original copy and 3 attested copies should be provided)
Eligibility Certificate approved by RGUHS.
Migration Certificate. (Original copy and 3 attested copies should be provided)
Physical Fitness. Blood Group Certificate.
Photographs – 5 Passport Size and 5 Stamp Size.
Proof of Employment of Parent.
Original Passport and ID Proof.
Letter of sponsorship. (Original copy and 5 copies should be provided)
A residential permit from local SP and FRO.
No Objection Certificate from the Ministry of Health if applicable.
Fee Structure For MBBS From GR Medical College
Total number of seat for MBBS From GR Medical College  is categorically divided into government seats, private seats, NRI seats and other seats. The fee structure for the same is given as below; (Based on 2021 fee structure)
| | |
| --- | --- |
| Seat Category | Tuition Fee |
| Government Seats | 128,746 |
| Private Seats | 10,92,602 |
| NRI Seats | 40,12,450 |
| Other Seats | 40,12,450 |
GR Medical College Facilities Provided
All the hostels are provided with telephone facilities in each Floor. There is a Sub Post Office in the campus for providing Ordinary & Speed post facilities for students as well as faculty. Latest facilities like internet, E-Mails, Remote login, Browsing, World Wide Web etc. are made easily available for the use of students and faculty.
Medical facilities are provided to the students at our Medical College and Dental College Hospitals within the campus itself.
Extension counters of Canara Bank, Karnataka Bank and Syndicate Bank have been provided in the campus. ATM units of Canara Bank & ICICI Bank are available in front of the Medical College. ATM Units of SBI, SBM, Corporation Bank & Syndicate Bank are available at Town.
Medical students enjoy a variety of social, recreational, cultural & educational activities. There is an annual event held where students showcase their talents in the field of music, dance & acting to name few. There are cafes, canteens & Coffee venders where students can take a break.
Fitness enthusiastic has a vast arena to express themselves in the football, basketball, cricket grounds.
The central library is well equipped with a huge collection of books, references, journals, and CD's to provide comprehensive data to students and alike. Online accesses to the e-resource of Digital Library portals are enabled.
Campus also equipped with WIFI to provide internet support to the students through which various recent advances, journals can be accessed for free. The campus is well guarded with 24 hours security protection offered by trained personnel.
Infrastructure
Spread over 32 acres of lush greenery, College is housed in several buildings that occupy a total area of 12,000,000 sqm.
The Institute has a 700-person multi-specialist hospital and other auxiliary medical facilities, as recommended by the Medical Council of India (MCI).
This Medical College has air-conditioned large lecture halls to accommodate 180 students.
Seminar rooms/demonstration rooms with a capacity from 20 to 30 and equipped with audiovisual aids.
Four gallery-type lecture rooms with 180 students in studies equipped with E-class devices.
Anatomy museum shows wet and dry samples and embryology like Models, ski grams, CT scans, MRI, X-ray fields are facilitated for students with area covers 200 sq m.
They are intended for 35 students studying at the museum at the same time and connected two rooms 15 sq.mts each for preparing models, specimens and for the work of artists and modelers.
The campus central library is a centrally air-conditioned 2400 sq.mts library that can accommodate 300 students at a time.
There are 7665 textbooks are available and 62 Journal and 40 Computers are available with Internet facilities in the E-Library section.
Hostel
Well-equipped AC and non-AC hostels, separate for boys and girls, meet the requirements of a comfortable student life.
Boys Hostel has 106 rooms available with needed facilities and 85 rooms available in Girls Hostel.
Guest rooms, recreation room with music, indoor games, TV rooms with DTH network plasma TV are available for students in their hostel.
A separate air-conditioned learning room with internet access is also available to students in their hostels.
Outdoor and indoor gaming facilities are provided, as well as a wellness center to keep future doctors healthy.
Affiliated Hospitals
Subbaiah Trust has built spacious buildings for the Subbaiah hospital to facilitate primary and tertiary health care for all types of people.
Providing GLP to patients below the poverty line is one of the best SMCH programs to provide medical facilities for the poor.
Student demo rooms are provided alongside all OPDs for clinical purposes and OPD's central laboratory is well equipped with pathology, biochemistry and microbiology departments.
Every day, about 800 patients arrive at the OPD in the area and the causative departments have 25-bed central air conditioning, providing 24-hour emergency assistance.
RHTC – Harmghatta located 10 km from the college and UHTC – Tunga Nagar located 10 km from the college.
How to Reach
GR Medical College is Located at Centre Neermarga, Mangaluru
Approximate driving distence between Mangaluru Railway Station to GR Medical College 4 Km by road
Get in touch with our Experts