MBBS From Dr B.R Ambedkar Medical College & Hospital: An Overview
Steps to get MBBS From Dr B.R Ambedkar Medical College & Hospital
Overview
Dr.B.R.Ambedkar Medical College (BRAMC) was established in the year 1981 in Bangalore and is run by Anandaa Social and Educational trust in Bangalore.
The Ananda Social and Educational is providing good education, which is the dream of SC and ST and underprivileged people.
This Educational Trust has a rich experience in the Medical education field, College and School of Nursing, College of Physiotherapy, Medical Laboratory Technology and Radiography, and Dental College.
Vision
To restore, maintain and set new standards.
To be compassionate with patient centered healthcare.
Mission
Our hospital is dedicated to provide quality patient care with unrelenting attention to clinical excellence
Get in touch with our Experts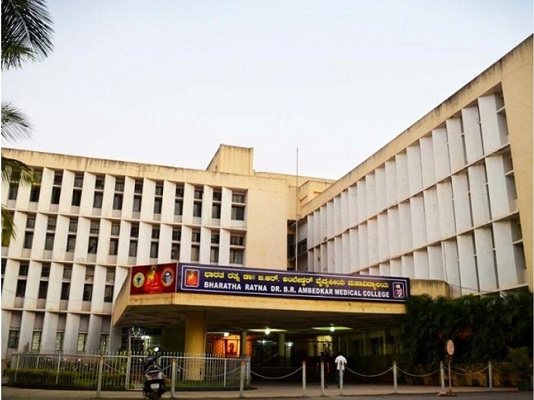 Courses Offered in Dr B.R.Ambedkar Medical College & Hospital Departments
To get MBBS From Dr B.R. Ambedkar Medical College & Hospital provides undergraduate and postgraduate programmes in various streams with highly qualified faculties. Dr B.R. Ambedkar Medical College & Hospital offers a MBBS program having a duration of 4.5 years along with 1 year internship. After passing the final MBBS examination students must have temporary registration from Karnataka Medical Council and full registration after completing one year internship. The total intake for the programme is 100 seats. The eligibility criteria for securing a seat for the MBBS course are:
Candidates must have completed 10+2 or equivalent examination conducted by Rajiv Gandhi University of Health Sciences, Bangalore with a 50% aggregate in Biology, Physics and Chemistry with English as a compulsory language. The candidate is finally selected on the basis of the marks secured by them in the in NEET UG.
MBBS From Dr B.R. Ambedkar Medical College & Hospital.
1. Every student shall undergo a period of certified study extending over 4 ½ academic years from the date of commencement of his study for the subject comprising the medical curriculum to the date of completion of the examination followed by one year of compulsory rotating internship. The 4 ½ years course has been divided into three phases.

Phase I 1 year, consisting of two terms of 6 months each.

Phase II 1 ½ years, consisting of three terms of 6 months each.

Phase III 2 years, after phase II, consisting of four terms of 6 months each.
2. The first year (phase I —pre-clinical) shall deal with the subjects of Human Anatomy, Physiology, including Biophysics, Bio-Chemistry and an introduction to community medicine.
3. After passing pre-clinical subjects in phase I, Phase II (3 terms —1 ½ year), dealing with Para clinical subjects. Para Clinical subjects shall consist of Pathology, Pharmacology, Microbiology, Forensic Medicine including Toxicology and part of community medicine. During this phase, the clinical subjects shall be taught concurrently. The clinical subjects taught will be obstetrics and Gynecology, Medicine, Surgery and their allied specifications respectively.
4. Phase III consists of clinical subjects, Medicine and its allied specialties Surgery and its allied specialties, pediatrics, Obstetrics and Gynecology and Community Medicine.
MBBS From Dr B.R. Ambedkar Medical College & Hospital
Phase
Semester
Subjects Taught
Pre-clinical
                   1-2                       Two Semesters
Anatomy, Biochemistry, Physiology
Para-clinical

                  3-4-5                     Three Semesters

Community Medicine; Forensic Medicine, Pathology, Pharmacology, Microbiology, Clinical postings inwards, OPDs 
Clinical
                6-7-8-9                        Four Semesters
Community Medicine, Medicine and allied subjects (Psychiatry, Dermatology); Obst. Gynae.; Pediatrics; Surgery and allied subjects
(Anesthesiology, E.N.T., Ophthalmology, Orthopaedics);
Clinical postings
Internship Structure Of MBBS From Dr B.R. Ambedkar Medical College & Hospital
| | |
| --- | --- |
| Subjects | Duration |
| Community Medicine              | 2 months |
| Medicine including Psychiatry | 2 months |
| Surgery including Anaesthesia | 2 months |
| Obstetrics/Gynecology including Family Welfare Planning | 2 months |
| Paediatrics | 1 month |
| Orthopaedics including PMR | 1 month |
| E.N.T | 15 days |
| Ophthalmology | 15 days |
| Casualty | 15 days |
| Elective posting | 15 days |
| Total | 12 months |
Get in touch with our Experts
Documents Required for Admission
MBBS From Dr B.R. Ambedkar Medical College & Hospital Admission Under General Merit Category:
All Original Documents along with 3 sets of attested copies.
NEET Admit Card
Scorecard or Rank Letter
Class 10 certificate and marks sheet (for date of birth)
Class 12 certificate and mark sheet
Transfer certificate issued by the institution last studied.
ID proof (Aadhar/P.A.N Card/Driving License/Passport)
Eight passport-size photographs
Provisional Allotment Letter
Caste Certificate (if applicable)
PwD Certificate (if applicable)
MBBS From Dr B.R. Ambedkar Medical College & Hospital. Admission Under NRI Quota:
10th Standard marks list or pass certificate for proof of date of birth. (Original copy and 3 attested copies should be provided)
12th Standard or equivalent marks card and pass certificate. (Original copy and 3 attested copies should be provided)
Transfer Certificate. (Original copy and 3 attested copies should be provided)
Conduct Certificate. (Original copy and 3 attested copies should be provided)
Eligibility Certificate approved by RGUHS.
Migration Certificate. (Original copy and 3 attested copies should be provided)
Physical Fitness. Blood Group Certificate.
Photographs – 5 Passport Size and 5 Stamp Size.
Proof of Employment of Parent.
Original Passport and ID Proof.
Letter of sponsorship. (Original copy and 5 copies should be provided)
A residential permit from local SP and FRO.
No Objection Certificate from the Ministry of Health if applicable.
Dr B.R.Ambedkar Medical College & Hospital Facilities Provided
All the hostels are provided with telephone facilities in each Floor. There is a Sub Post Office in the campus for providing Ordinary & Speed post facilities for students as well as faculty. Latest facilities like internet, E-Mails, Remote login, Browsing, World Wide Web etc. are made easily available for the use of students and faculty.
Medical facilities are provided to the students at our Medical College and Dental College Hospitals within the campus itself.
Extension counters of Canara Bank, Karnataka Bank and Syndicate Bank have been provided in the campus. ATM units of Canara Bank & ICICI Bank are available in front of the Medical College. ATM Units of SBI, SBM, Corporation Bank & Syndicate Bank are available at Town.
The Central Library has 16500 books which comprises of text and reference in all medical specialties . It has 2 separate blocks and B block works 24 hours through out the year
The library is enriched with digital facilities and computer systems. Students, Faculty, Research workers, and other staff extensively make use of the facilities.
Readers have access to audio-visual aids, Micro Film Reader, and internet facility. Electronic databases viz. MEDLINE , Proquest Medical Library are available. The Library is connected to HELINET consortium offered by RGUHS for full text online journal and E books data bases and computerized. Post graduates , graduates and researchers get the latest references through these apart from books, for their dissertation and research and publication work. Services include book bank, Photocopying, scanning for digitising purpose and laser printing too. Both Foreign and Indian medical journals are subscribed to meet the demands of learning and to keep abreast with recent literature .
Our library is an essential component of the institution which worthy serves the community enthusiastically, providing friendly environment .
Apart from the central library every department maintains its own departmental library facility for their staff and PG students.
The college runs hostels for the within the campus for
Girls & Boys separately.
The hostel buildings with spacious rooms, lounges, recreation room having color television sets in each of the hostels, with all other modern amenities, are built to ensure comfortable stay of the inmates, and a proper atmosphere for study. The women students' hostel, with a view to ensure absolute safety of the inmates, is fenced properly and secured.
Transport Facility
College buses run in the various parts of the city for commutation of students and staff from their destination to college and back home on nominal charges. Transport facility is also available to send students to various health centres for training purposes.
Fee Structure For MBBS From Dr B.R. Ambedkar Medical College & Hospital
Total number of seat for MBBS From Dr B.R. Ambedkar Medical College & Hospital  is categorically divided into government seats, private seats, NRI seats and other seats. The fee structure for the same is given as below; (Based on 2021 fee structure)
| | |
| --- | --- |
| Seat Category | Tuition Fee |
| Government Seats | 128,746 |
| Private Seats | 10,92,602 |
| NRI Seats | 40,12,450 |
| Other Seats | 40,12,450 |
Get in touch with our Experts