Get in touch with our Experts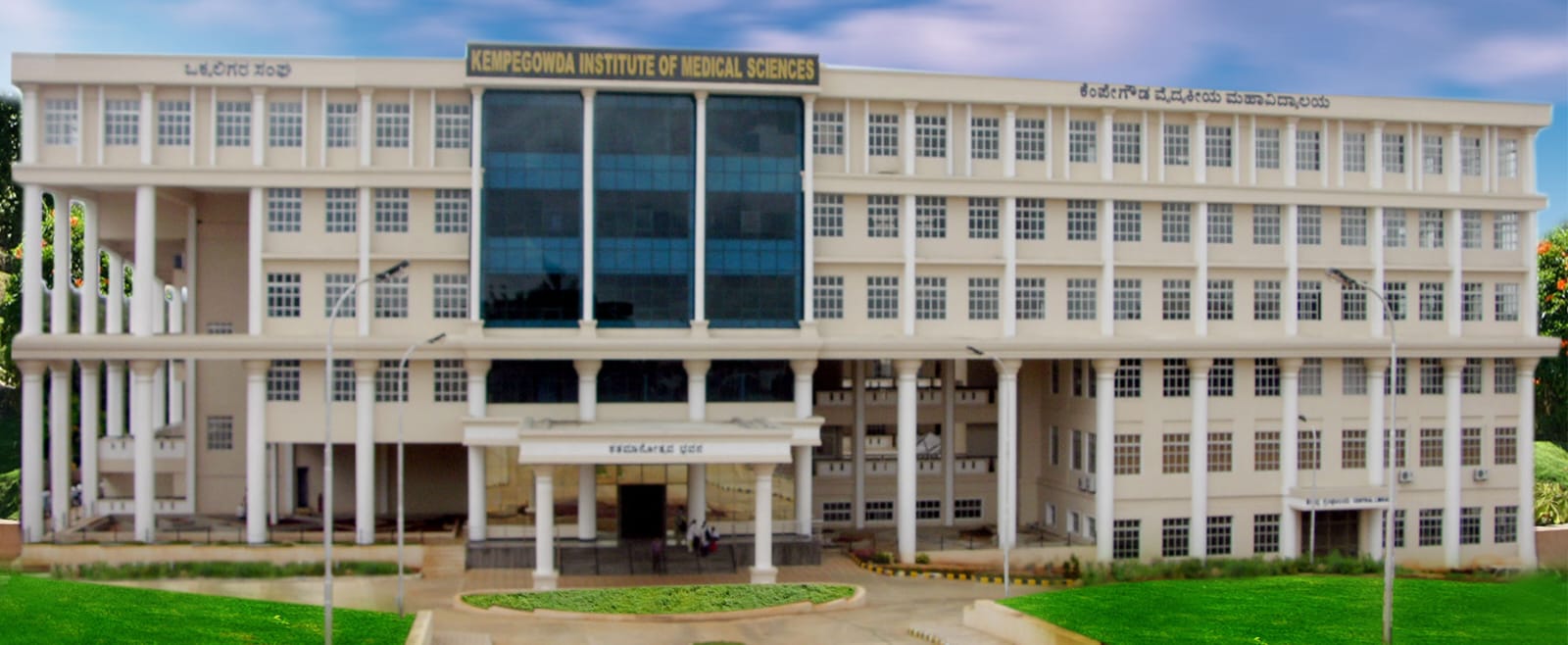 Courses Offered in BGS Global Institute Of Medical Sciences Departments
To get MBBS From BGS Global Institute Of Medical Sciences provides undergraduate and postgraduate programmes in various streams with highly qualified faculties.  BGS Global Institute Of Medical Sciences offers a MBBS program having a duration of 4.5 years along with 1 year internship. After passing the final MBBS examination students must have temporary registration from Karnataka Medical Council and full registration after completing one year internship. The total intake for the programme is 150 seats. The eligibility criteria for securing a seat for the MBBS course are:
Candidates must have completed 10+2 or equivalent examination conducted by Rajiv Gandhi University of Health Sciences, Bangalore with a 50% aggregate in Biology, Physics and Chemistry with English as a compulsory language. The candidate is finally selected on the basis of the marks secured by them in the in NEET UG.
MBBS From BGS Global Institute Of Medical Sciences
1. Every student shall undergo a period of certified study extending over 4 ½ academic years from the date of commencement of his study for the subject comprising the medical curriculum to the date of completion of the examination followed by one year of compulsory rotating internship. The 4 ½ years course has been divided into three phases.

Phase I 1 year, consisting of two terms of 6 months each.

Phase II 1 ½ years, consisting of three terms of 6 months each.

Phase III 2 years, after phase II, consisting of four terms of 6 months each.
2. The first year (phase I —pre-clinical) shall deal with the subjects of Human Anatomy, Physiology, including Biophysics, Bio-Chemistry and an introduction to community medicine.
3. After passing pre-clinical subjects in phase I, Phase II (3 terms —1 ½ year), dealing with Para clinical subjects. Para Clinical subjects shall consist of Pathology, Pharmacology, Microbiology, Forensic Medicine including Toxicology and part of community medicine. During this phase, the clinical subjects shall be taught concurrently. The clinical subjects taught will be obstetrics and Gynecology, Medicine, Surgery and their allied specifications respectively.
4. Phase III consists of clinical subjects, Medicine and its allied specialties Surgery and its allied specialties, pediatrics, Obstetrics and Gynecology and Community Medicine.
MBBS From BGS Global Institute Of Medical Sciences
Phase
Semester
Subjects Taught
Pre-clinical
                   1-2                       Two Semesters
Anatomy, Biochemistry, Physiology
Para-clinical

                  3-4-5                     Three Semesters

Community Medicine; Forensic Medicine, Pathology, Pharmacology, Microbiology, Clinical postings inwards, OPDs 
Clinical
                6-7-8-9                        Four Semesters
Community Medicine, Medicine and allied subjects (Psychiatry, Dermatology); Obst. Gynae.; Pediatrics; Surgery and allied subjects
(Anesthesiology, E.N.T., Ophthalmology, Orthopaedics);
Clinical postings
Internship Structure Of MBBS From BGS Global Institute Of Medical Sciences
| | |
| --- | --- |
| Subjects | Duration |
| Community Medicine              | 2 months |
| Medicine including Psychiatry | 2 months |
| Surgery including Anaesthesia | 2 months |
| Obstetrics/Gynecology including Family Welfare Planning | 2 months |
| Paediatrics | 1 month |
| Orthopaedics including PMR | 1 month |
| E.N.T | 15 days |
| Ophthalmology | 15 days |
| Casualty | 15 days |
| Elective posting | 15 days |
| Total | 12 months |
Get in touch with our Experts
Documents Required for Admission
MBBS From BGS Global Institute Of Medical Sciences Admission Under General Merit Category:
All Original Documents along with 3 sets of attested copies.
NEET Admit Card
Scorecard or Rank Letter
Class 10 certificate and marks sheet (for date of birth)
Class 12 certificate and mark sheet
Transfer certificate issued by the institution last studied.
ID proof (Aadhar/P.A.N Card/Driving License/Passport)
Eight passport-size photographs
Provisional Allotment Letter
Caste Certificate (if applicable)
PwD Certificate (if applicable)
MBBS From BGS Global Institute Of Medical Sciences. Admission Under NRI Quota:
10th Standard marks list or pass certificate for proof of date of birth. (Original copy and 3 attested copies should be provided)
12th Standard or equivalent marks card and pass certificate. (Original copy and 3 attested copies should be provided)
Transfer Certificate. (Original copy and 3 attested copies should be provided)
Conduct Certificate. (Original copy and 3 attested copies should be provided)
Eligibility Certificate approved by RGUHS.
Migration Certificate. (Original copy and 3 attested copies should be provided)
Physical Fitness. Blood Group Certificate.
Photographs – 5 Passport Size and 5 Stamp Size.
Proof of Employment of Parent.
Original Passport and ID Proof.
Letter of sponsorship. (Original copy and 5 copies should be provided)
A residential permit from local SP and FRO.
No Objection Certificate from the Ministry of Health if applicable.
Fee Structure For MBBS From BGS Global Institute Of Medical Sciences
Total number of seat for MBBS From BGS Global Institute Of Medical Sciences  is categorically divided into government seats, private seats, NRI seats and other seats. The fee structure for the same is given as below; (Based on 2021 fee structure)
| | |
| --- | --- |
| Seat Category | Tuition Fee |
| Government Seats | 128,746 |
| Private Seats | 10,92,602 |
| NRI Seats | 40,12,450 |
| Other Seats | 40,12,450 |
BGS Global Institute Of Medical Sciences Facilities Provided
All the hostels are provided with telephone facilities in each Floor. There is a Sub Post Office in the campus for providing Ordinary & Speed post facilities for students as well as faculty. Latest facilities like internet, E-Mails, Remote login, Browsing, World Wide Web etc. are made easily available for the use of students and faculty.
Medical facilities are provided to the students at our Medical College and Dental College Hospitals within the campus itself.
Extension counters of Canara Bank, Karnataka Bank and Syndicate Bank have been provided in the campus. ATM units of Canara Bank & ICICI Bank are available in front of the Medical College. ATM Units of SBI, SBM, Corporation Bank & Syndicate Bank are available at Town.
Medical students enjoy a variety of social, recreational, cultural & educational activities. There is an annual event held where students showcase their talents in the field of music, dance & acting to name few. There are cafes, canteens & Coffee venders where students can take a break.
Fitness enthusiastic has a vast arena to express themselves in the football, basketball, cricket grounds.
The central library is well equipped with a huge collection of books, references, journals, and CD's to provide comprehensive data to students and alike. Online accesses to the e-resource of Digital Library portals are enabled.
Campus also equipped with WIFI to provide internet support to the students through which various recent advances, journals can be accessed for free. The campus is well guarded with 24 hours security protection offered by trained personnel.
ADVANCED SKILLS LAB
BGSGIMS ,Bangalore has one of the most Advanced Skills Lab and Simulation center, with specifically equipped practice rooms functioning as training facilities for medical students, physicians in training in order to hone and develop their skills.
 Our mission is to promote clinical competence, ensure patient safety and enhance the skills of medical students during their training. The skills lab employs highly skilled and motivated faculty who will participate in students learning experiences will impart their knowledge and skills during debriefing sessions and feedback that will go a long way in improving the performance of students before they are exposed to real life scenarios.
 Students will be exposed to mannequins related to clinical skill development like surgical, obstetric, trauma, cardiac, pediatric and critical care specialities. We also have high fidelity simulators, high fidelity mannequins, well equipped audiovisual aids, debriefing hall in front of skills lab, common group practice area and classroom for teaching which places us among the top most skills lab in the country.
The facilitators will help the students by exposing them to procedures and scenarios on mannequins in a gradual manner, thereby enhancing their skills during their academic tenure and contributing to their clinical prowess. This will be followed by evaluating these activities after the end of individual sessions so as to improve the performance of these students further.
Our lab helps undergraduates, postgraduate students and faculty members to qualify and enhance their skills in BLS, ACLS and ECLS activities
Mannequins and information technology are employed to provide hands-on learning sessions for each individual learner to practice essential clinical skills. Students will have the opportunity to experience and learn the competence they require for clinical practice.
Infrastructure Facility
Cricket & Football Field: Cricket is one of the popular games of the country. It is located backside gate of the campus.
Volley Ball & Throw Ball: It is located next to the Auditorium & is in front of boy's hostel. We are proud that many Varsity, Inter Collegiate tournaments are conducted here.
Indoor Shuttle Badminton Court : Is the busiest center of the complex. Both Staff members & the student flex their muscles here. The wooden court has Three Courts and is very well utilized by the student.
Basket Ball court: Is located at the prime place in the campus, near the Hostels. We are proud that many Varsity, Inter Collegiate tournaments are conducted here.
Table tennis: It has also been a popular game in the campus. & is located at Sports Department.
Multi Gym: It is the main attraction for the students & is located in the Indoor Stadium. It has all modern 12 station equipment's. Students can make use of this facility even during their leisure and keep themselves FIT and HEALTHY.
Hostel Facilities
Separate hostel facilities are available for both boys and girls within the campus.
The Hostels offer spacious accommodation and a serene environment that is conducive to the growth of young minds.
Hostel rooms are comfortably furnished and make for a good home away from home.
The hostellers are provided with solar water heaters, Wi-Fi facility, TV room, reading room, visitors lounge, water coolers, generators.
To cater to the students the hostel premises also have facilities for indoor and outdoor games.
On the safety front all the hostels are provided with 24×7 security and surveillance cameras.
 MBBS From BGS Global Institute of Medical Sciences : An Overview
Steps to get MBBS From BGS Global Institute Of Medical Sciences.
Overview
BGS Global Institute of Medical Sciences (BGSGIMS) affiliated to Rajiv Gandhi University of Health Sciences (RGUHS) has been established to impart quality medical education and spawn dedicated healthcare professionals for services in the society. The institute is equipped with state-of-the art classrooms and ultra-modern laboratories to create a conducive environment for teaching, learning and patient care. The Institute inculcates some of the most progressive teaching and learning techniques to both students and teachers. Highly advanced and innovative methods that impact the quality of medical education and also the lives of people who seek medical attention are formulated through various avant-garde programs.
The courses offered by the institute are contemporary and duly approved by the Medical Council of India (MCI).
VISION
"To be recognized as a centre of excellence providing quality medical training and comprehensive health care in a socially responsible manner".
MISSION
"To educate and inspire individuals to be passionate and compassionate physicians and exemplary leaders in the field of medicine with sensitivity to the needs of the community"
How to Reach
Nearest Airport is Bangalore International Airport and the distance is 51 Kms.
BGS Global Institute of Medical Sciences is located at 15.5 kilometres from the city Railway station via Mysore Main Road.
It is also located at just 15.7 kms from the centralized bus stand via NICE Bangalore Mysore Expressway and Mysore Road.
Get in touch with our Experts