BDS from Saveetha Dental College And Hospital, Chennai : An Overview
Steps to get BDS from Saveetha Dental College And Hospital, Chennai
Saveetha Dental College, Chennai, Tamil Nadu, India, is one of the finest institutions in the world with a unique curriculum that is a spectacular fusion of the best practices of the east and west. It is our everlasting passion that has helped us train our students with unsurpassed skills in Clinical, Academic and Research domains.  We believe that our ultimate success would be to see our students become strong confident successful professionals. We focus on making the learning environments conducive for students to achieve their goals in life. created the first comprehensive UG training programin India.  The institution also celebrated its first Guinness World Record in 2013 where 500+ doctors went to 77 destinations and screened over 1 lakh school children in a single day. Furthermore, Saveetha purchased  the first CAD CAM integrated 3d Printed system for computerised dental treatments. It's one of the first centres of excellence in Asia. To raise the institution to international standards we opened the four seasons super deluxe hostel that had redefined hostel design in many other institutions. BDS From Saveetha Dental College And Hospital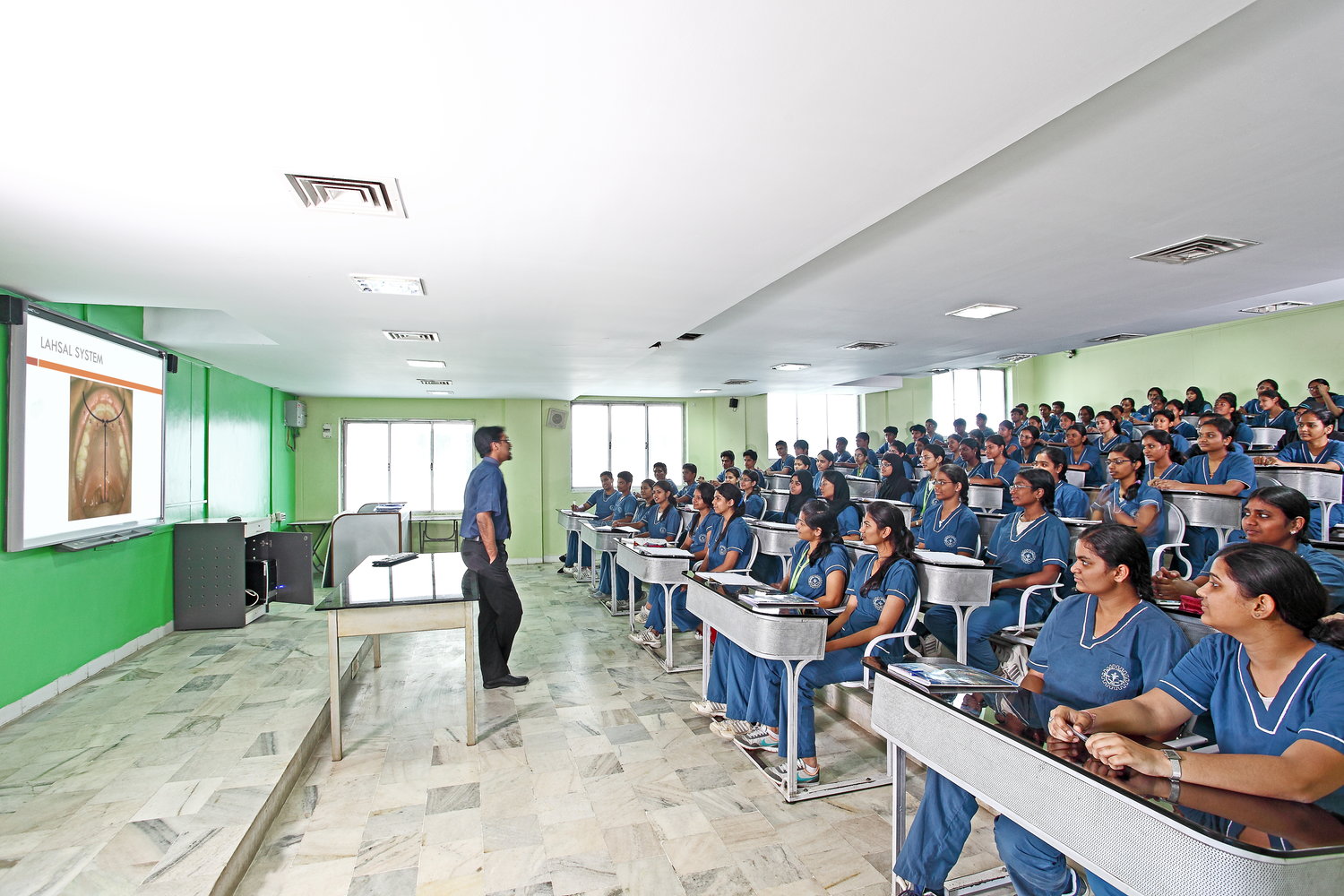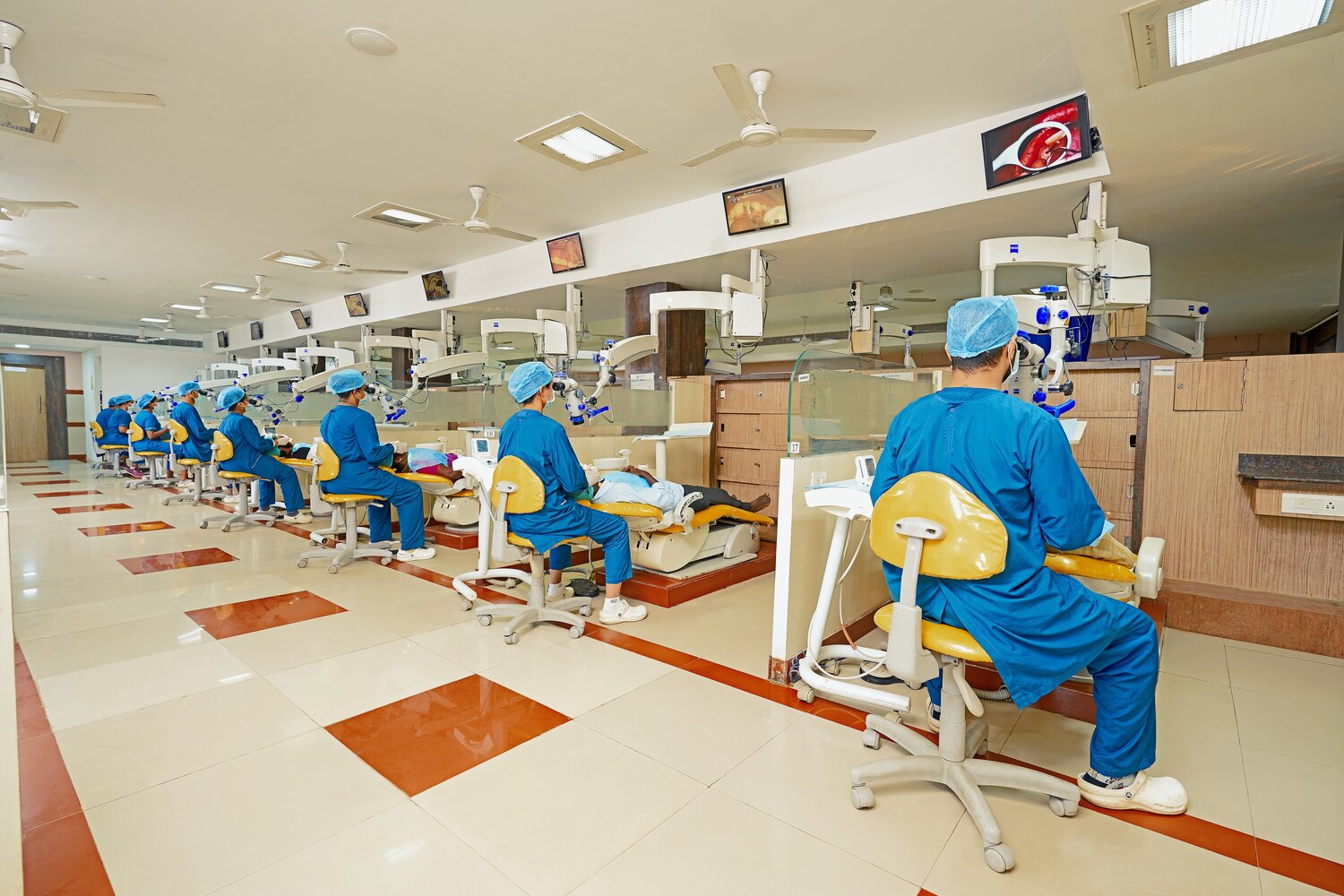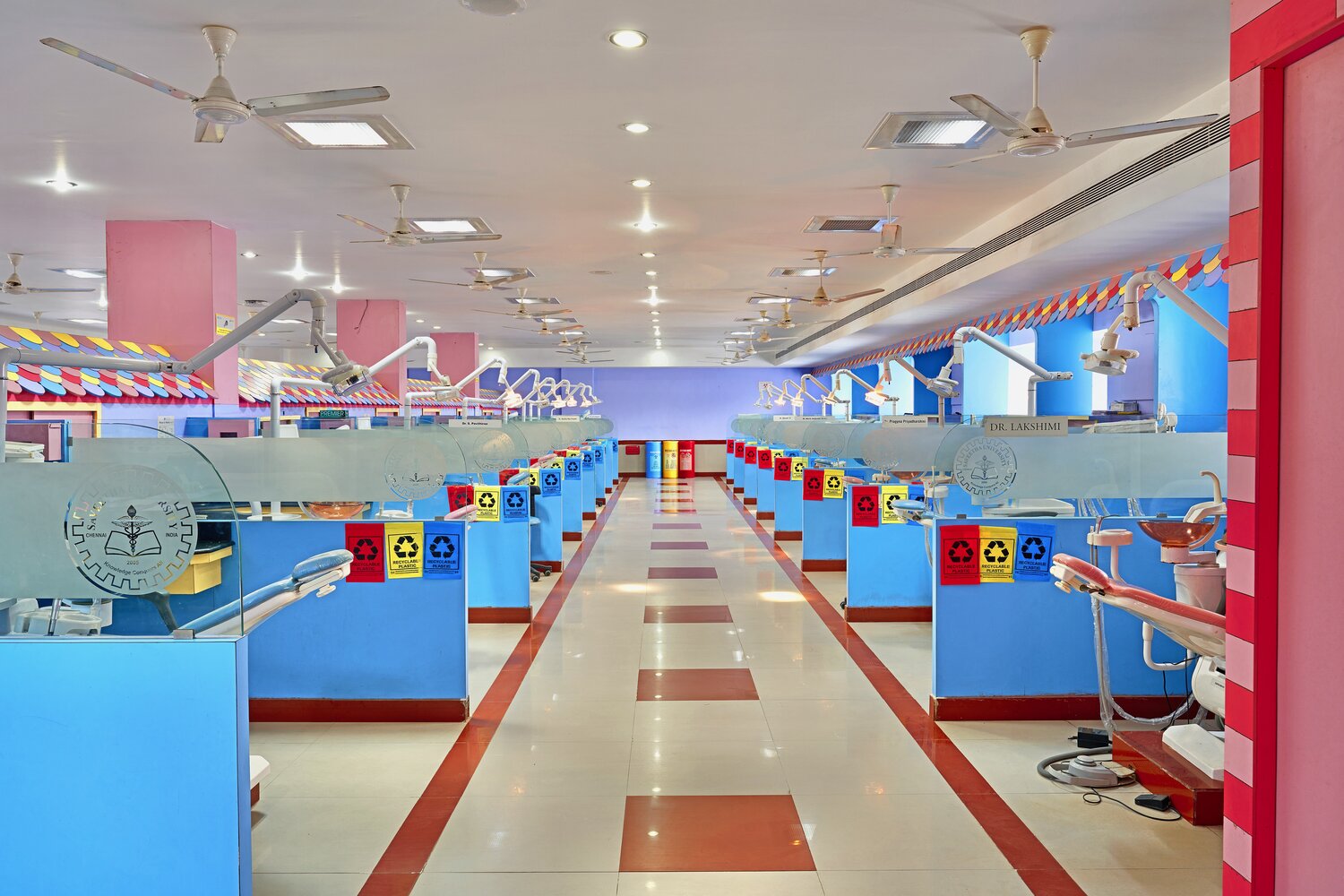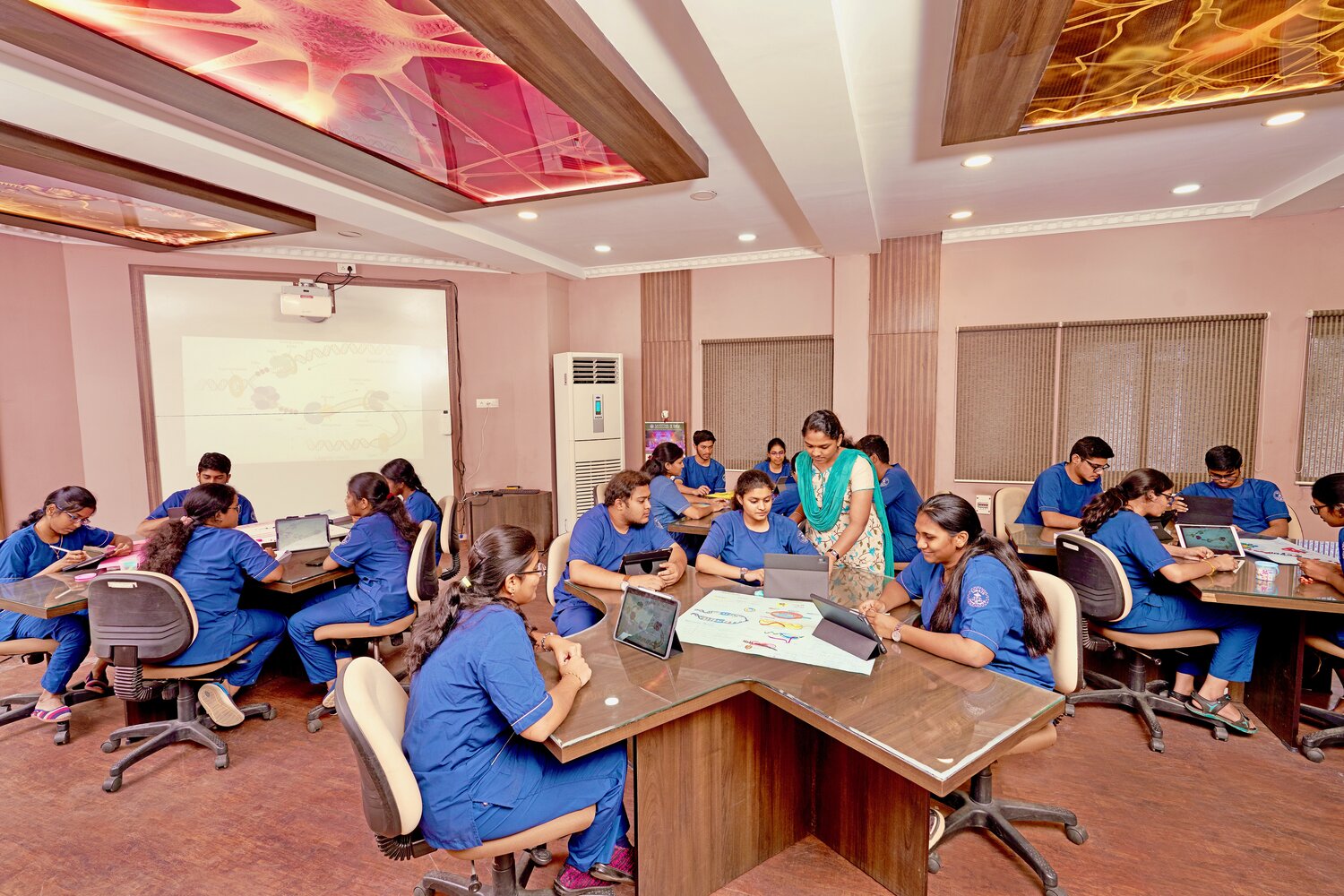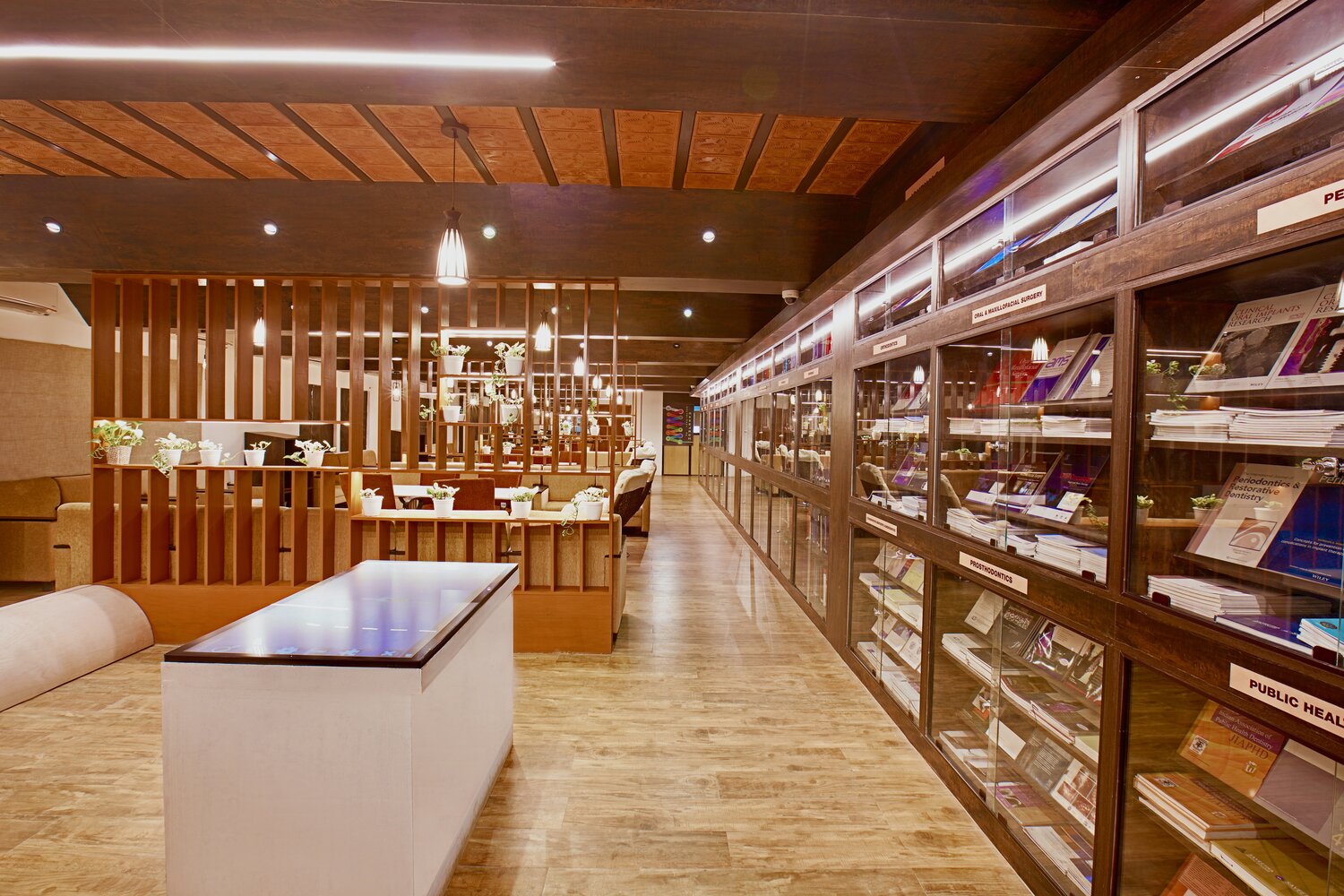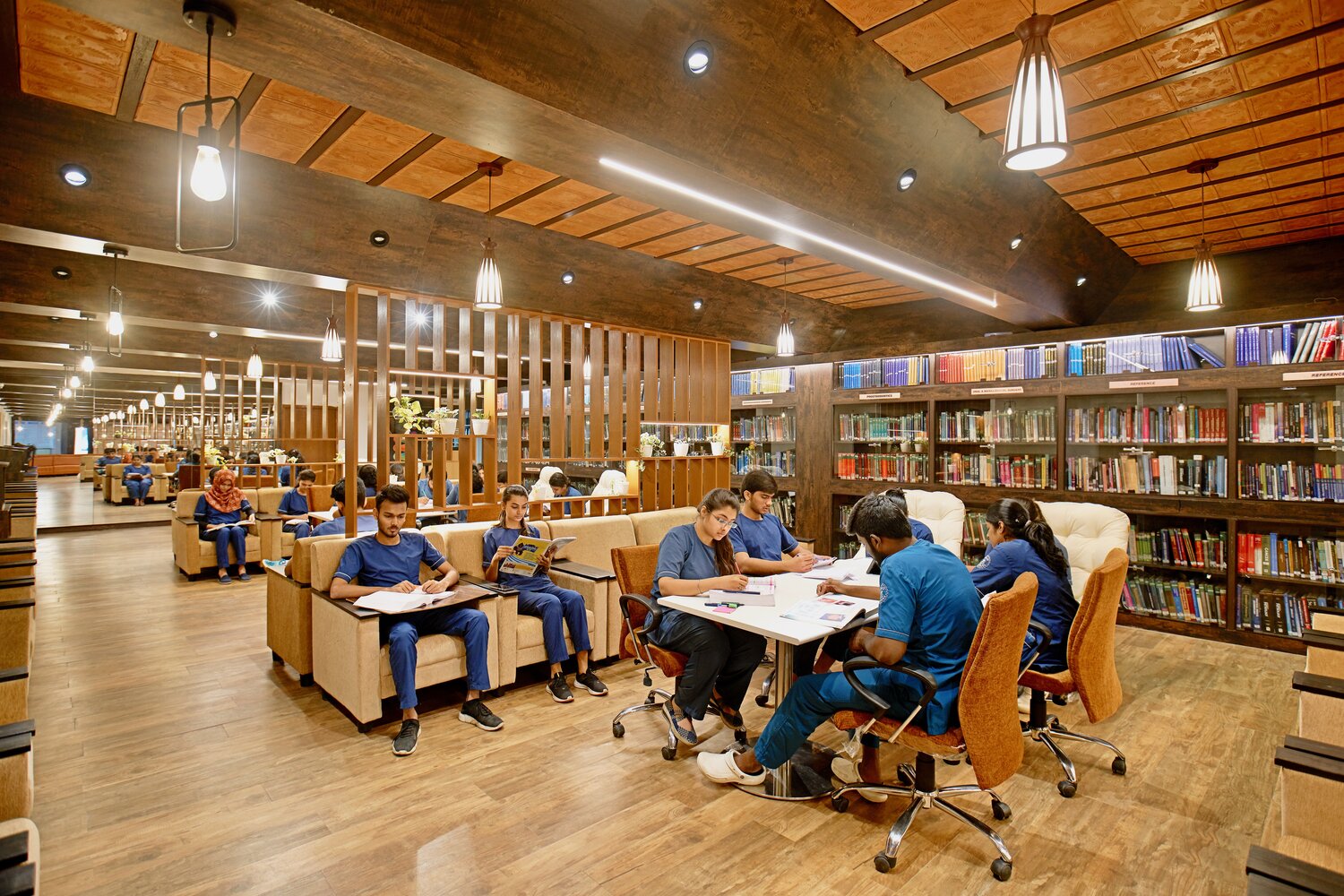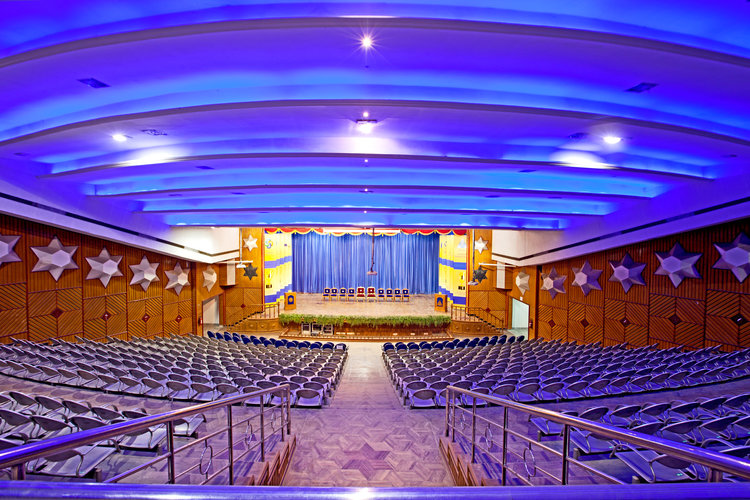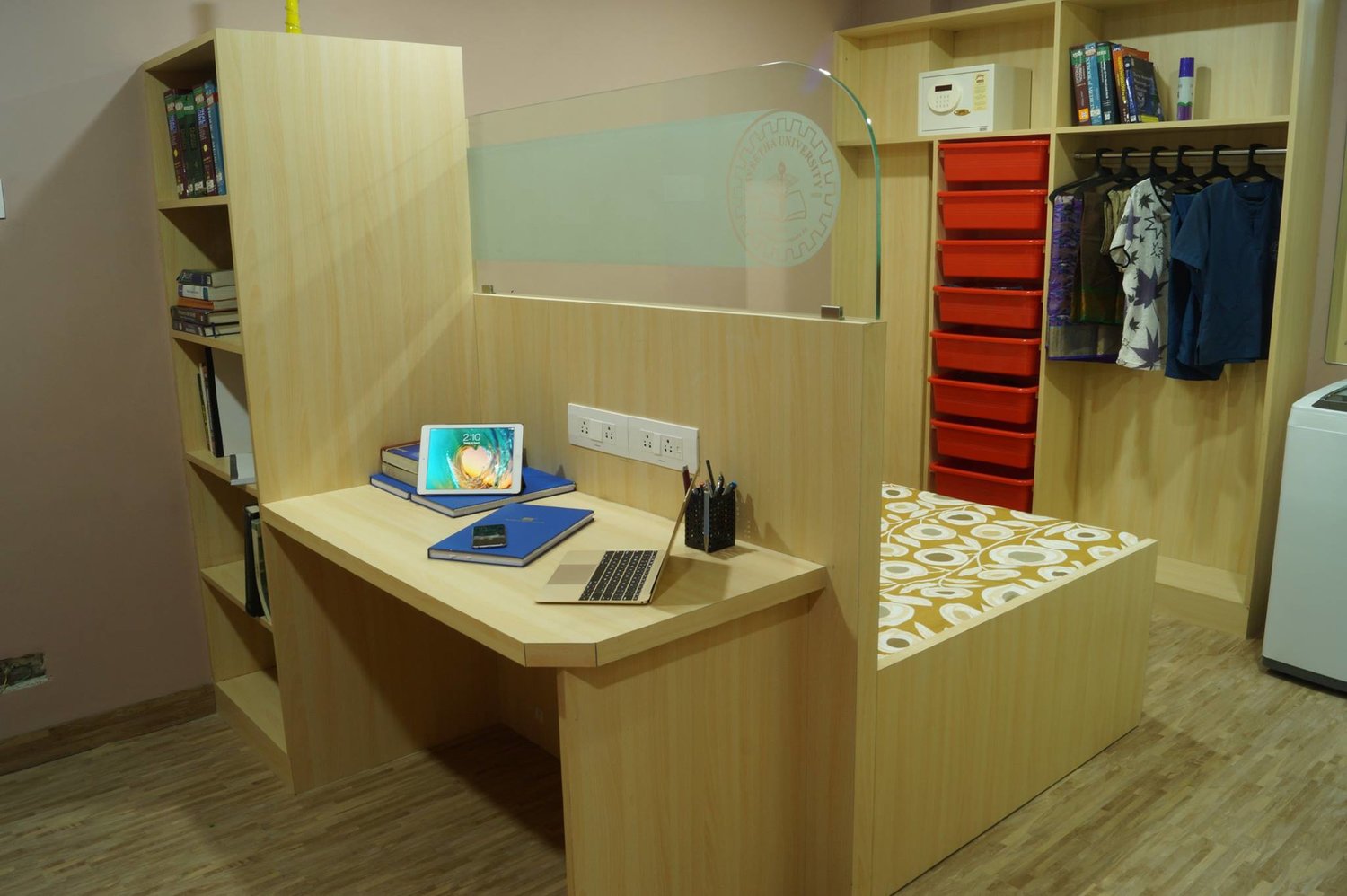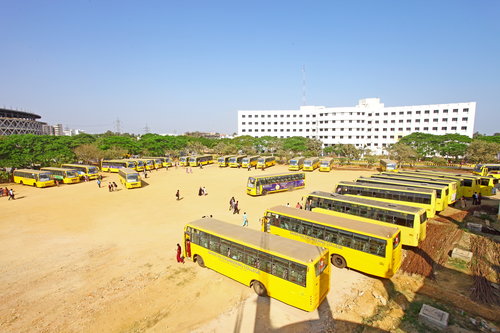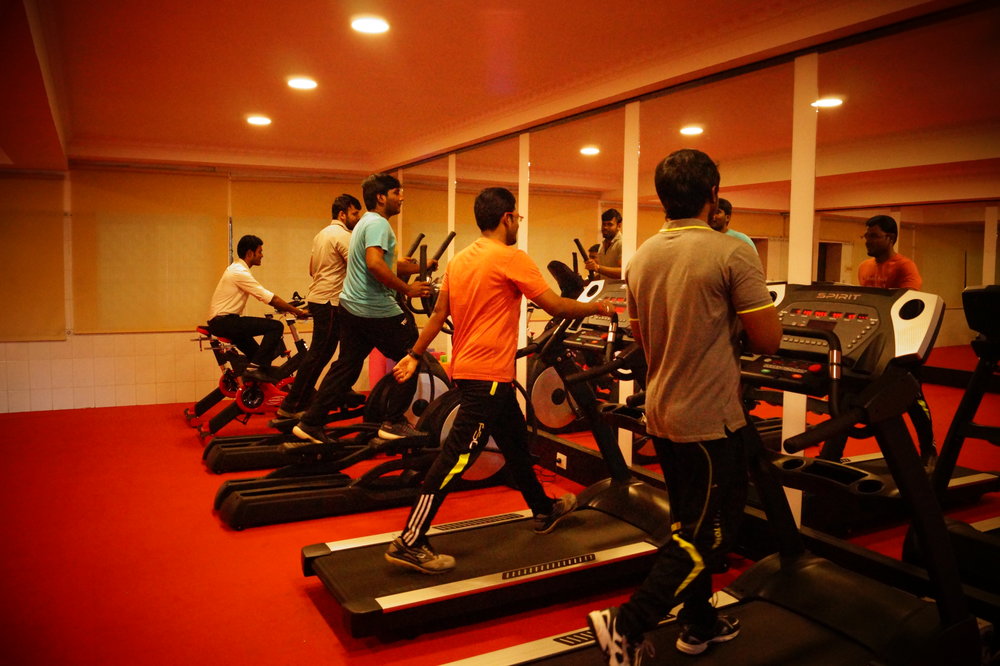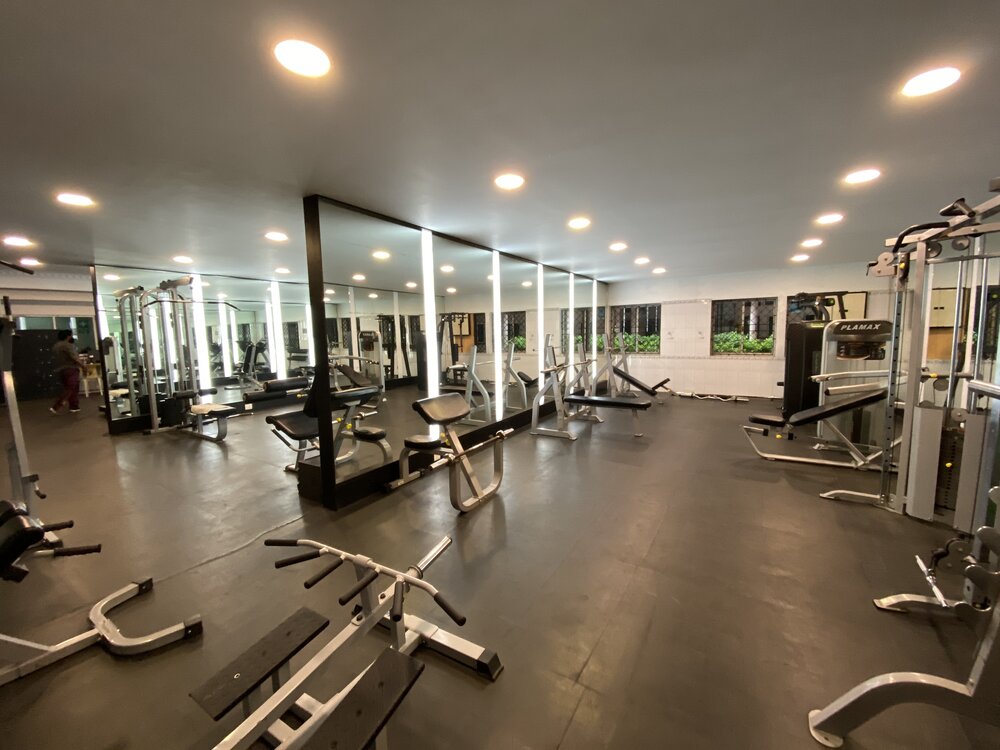 Courses Offered in Saveetha Dental College And Hospital, Chennai
To get BDS From Saveetha Dental College And Hospital which provides undergraduate and postgraduate programmes in various streams with highly qualified faculties.
Bachelor of Dental Surgery or BDS from Saveetha Dental College And Hospital
Saveetha Dental College And Hospital offers four year BDS course duly affiliated by Tamil Nadu Dr. MGR Medical University and approved by the Dental Council of India (DCI).The total duration of BDS course is for 4 years and one year of internship. BDS From Saveetha Dental College And Hospital is a good college choice for BDS aspirants.
Masters of Dental Surgery or MDS from Saveetha Dental College And Hospital
The programs are duly permitted by the Dental Council of India and are affiliated to the Tamil Nadu DR.MGR Medical University. The Dental Council of India, New Delhi has permitted to offer Post Graduate MDS courses in the following specialties.
Prosthodontics & Crown Bridge
Periodontology
Oral & Maxillofacial Surgery
Conservative Dentistry & Endodontics
Orthodontics& Dentofacial Orthopedics
Oral Pathology & Microbiology
Public Health Dentistry
Paediatrics and Preventive Dentistry
Oral Medicine & Radiology
Get in touch with our Experts
To know more about Admission Process and to get Free Admission Guidance!
BDS From Saveetha Dental College And Hospital – Admission Procedure
 The candidate must appear and pass the NEET entrance exam with the required percentile score to seek admission to the course.
Aspirants must complete the NEET BDS application form and pay the required fee by the deadlines. It is important that applicants carefully read the prospectus before filling out the application.
Following the announcement of the results, only qualified and suitable candidates will be granted access to the counseling process.
Following participation in the authorized counselling procedure, seats will be assigned to applicants based on rank and availability of seats
Documents to be submitted at the time of admission
Get Admission Of BDS From Saveetha Dental College And Hospital Admission Under General Merit Category:
All Original Documents along with 3 sets of attested copies. BDS From Saveetha Dental College And Hospital
For UG Candidates
NEET Admit Card
Scorecard or Rank Letter
Class 10 certificate and marks sheet (for date of birth)
Class 12 certificate and mark sheet
Transfer certificate issued by the institution last studied.
ID proof (Aadhar/P.A.N Card/Driving License/Passport)
Eight passport-size photographs
Provisional Allotment Letter
Caste Certificate (if applicable)
PwD Certificate (if applicable)
BDS From Saveetha Dental  College And Hospital Admission Under NRI Quota:
Documents required for getting admission to BDS From Saveetha Dental College And Hospital under NRI Quota: 
10th Standard marks list or pass certificate for proof of date of birth. (Original copy and 3 attested copies should be provided)
12th Standard or equivalent marks card and pass certificate. (Original copy and 3 attested copies should be provided)
Transfer Certificate. (Original copy and 3 attested copies should be provided)
Conduct Certificate. (Original copy and 3 attested copies should be provided)
Eligibility Certificate approved by RGUHS.
Migration Certificate. (Original copy and 3 attested copies should be provided)
Physical Fitness. Blood Group Certificate.
Photographs – 5 Passport Size and 5 Stamp Size.
Proof of Employment of Parent.
Original Passport and ID Proof.
Letter of sponsorship. (Original copy and 5 copies should be provided)
A residential permit from local SP and FRO.
No Objection Certificate from the Ministry of Health if applicable.
BDS From Saveetha Dental College And Hospital NRI Quota : Documents Required For MDS Candidates
Original Copies Of
BDS Certificate.
BDS 3rd Part II mark sheet.
Medical Registration Certificate.
Internship Completion Certificate.
Photo identity proof in the form of a Certificate with an attested photo from the Head of Institution last studied/Copy of Passport/Aadhar Card/PAN Card/Driving License (Self-attested photocopy after verifying with the original documents).
Copy of: Birth Certificate for proof of age (if the date of birth is not mentioned in the HSC mark sheet/ certificate).
NEET Score Card.
Copy of Online Counselling Registration Certificate of Karnataka Medical Counselling Committee (KMCC).
Sponsorship Certificate from State Govt. If applicable.
Passport size Photographs 8 copies.
Saveetha Dental College Facilities
Saveetha Dental College provides hostel facilities to the students and has separate hostels for girls and boys. Students can avail the facilities of  sports facilities, etc. Some other facilities are a gymnasium, auditorium, library, cafeteria, transport facilities, parking facilities and many more.
11,000 square feet air conditioned library with 165 seats and AV hall. The library has over 6500 books and 137 international and 79 national journals. There are 1605 dissertations available in our library. Our library is OPAC compliant with institutional access to Wiley online portal and Science Direct. We also have unique journal management system that ensures easy access to all back volumes. The library has 30 computers and entire campus has Wi-fi with smart controller to facilitate learning outside the walls. all our departments are furnished with extensive museums where students have displayed their creative skills in the form of static and dynamic models.
Hostel can house 500 students. Our four season ultra luxurious hostel is an amazing facility that would be hard to come by in most universities all over the world. It provides an at home environment for the student. They enjoy every luxury from air-condition, refrigerators, washing machine and cookeries et
Special features of our hostel
Spacious building.
Enriched and healthy food facility.
Incessant water and electricity facility.
Hospital & Academic Block
The College has a Hospital Block and an Academic Block. The Hospital Block houses the 9 dental departments with 269 dental chairs, adequate pre-clinical laboratories, clinical areas, patient waiting areas and seminar rooms with state of the art equipment's. The Institution has an exclusive engineering section with highly qualified engineers and adequate support staff to supervise and maintain the infrastructure and other equipments of the Institution.
Budgetary allocation is made annually for maintenance and up gradation of infrastructure. A well-structured system (comprising Hospital Committee/ IQAC and HOD's) is in place for deciding the real-time infrastructural requirements and their timely implementation. Phased renovation and upgradation of all the 9 departments have been carried out in the last two years. A class room complex with four ICT enabled class rooms that include facilities like smart boards and Visualizers have been made available.
Our Clinics are equipped with over 550 electronic Kavo dental chairs that exceeds the requirement of 332. 80% of dental chairs are Kavo chairs from Germany. All our clinic are air-conditioned to provide an efficient working condition. Every student has an uninterrupted working area yet closely monitored by the faculties across all the dental specialties in every clinic. What more a patient needs minimal waiting time, consultation by all the specialist which enhances the treatment provided. 
All the basic sciences department and the oral pathology department has exclusive laboratories for themselves which latest equipments. Also the preclinical laboratory is designed to be a conducive environment wherein they have their allotted phantom heads to work. We also have an exclusive 10.000 sq.ft animal house with CO2 incubator, surgical theatre etc..There are 3 major operation theatres where we perform over around 550 surgeries every year. We also have a teaching surgical microscope. 
Air-conditioned class rooms with smart board with touch on cloud systems where the writing on the board get traced on the iPad and students can also write on a independent layer. All these lectures are available to the students through out their course for them to go back to the lecture any time any day across years.
A multigym facility with all the modern equipments like electromagnetic Tread-mill etc.available for all the students in the campus.
80 air-conditioned buses for our students across Chennai due to the tropical weather. They cover over 100kms radius from the institution across Chennai.
Food is an important component for anybody and our students have 7 cafeteria within the campus and are provide with smart cards. Ours is the first institution to introduce an alacarte based smart mess. Students can choose anywhere across these places to swap and have their hearts content. They serve everything possible from pastries to biriyani.
Institution has a separate seminar hall for all the speciality department with a capacity of 40 students. They are also air-conditioned and have smart boards. Here is where their oratorial skill is horned. They have their seminars, journal discussions and other academic discussion in these hall with their faculty.
A 1200 seater air-conditioned giant convention center with a 70 feet arena. Any speaker on stage will be able visualise the audience in the entire hall and vice versa. There is AV aids, power back up,  dinning area for the same capacity, greens room and what not to be a convention center of international standards.
major thrust areas of research namely Oral cancer, Material science, Molecular biology which resulted in 5 centre of excellence, Dental Research Cell, Oral Cancer Centre, Implant Tessellation Centre and Microendodontic Centre. Our basic medical sciences department do a lot of research in their respective fields related to dentistry in these centres using the above mentioned facilities and equipments. We do allow external scholars to work in our research labs, obtain our research expertise,they can stay in our guest house and complete their projects.
Academic fitness but also for physical fitness. We have a air-conditioned gymnasia with trainers, both faculty and students can join the gym. We do have a basket ball court and foodball field surrounded by gallery.
Other Facilities
Medical
Computer labs
Laboratory
OPD
Centre for Community Medicine
Blood Bank
Maintenance Engineering Department
Fee Structure Of BDS From Saveetha Dental College And Hospital
The yearly fee structure of BDS From Saveetha Dental College And Hospital for various medical courses is listed below.
| | | | | |
| --- | --- | --- | --- | --- |
| Courses | Govt Fees  | Private  | NRI Quota  | Others (Q Quota) |
| BDS | —— | —— | —– | —— |
Get in touch with our Experts
To know more about Admission Process and to get Free Admission Guidance!