BDS/MDS from Govt.Dental College, Bangalore: An Overview
The Government Dental College in Bangalore is one of the first few dental colleges in the country post independence and the first dental college in Karnatakato have started in     1958 with its beautiful stone walled building and campus. Within a very short period of time GDC gained lot of importance with its service to humanity mainly through best dental education to its students and catering to the needs of the population in and around Karnataka through efficient oral health care delivery.
The first Postgraduate course in the subject of Orthodontia was started in the year 1965 followed by Periodontia and Oral Surgery in 1967, in Oral medicine, Preventive and Social dentistry in 1973-74 and Conservative dentistry in 1977, which were given the due recognition by the Dental Council of India. This repute and credentials of the GDC was the reason for the expert committee of World Health Organisation(WHO) to visit this college as a centre and choose this institution amongst several institutions throughout the Southeast Asia to establish a Service clinic in the college and also recommended the starting of the Post graduate programme in the subject of Preventive and social dentistry for the first time in our country. GDC is a recognized center for the PhD programme in the six specialities with 3 recognised PhD guides .Its also a centre for numerous ongoing WHO-GOI projects .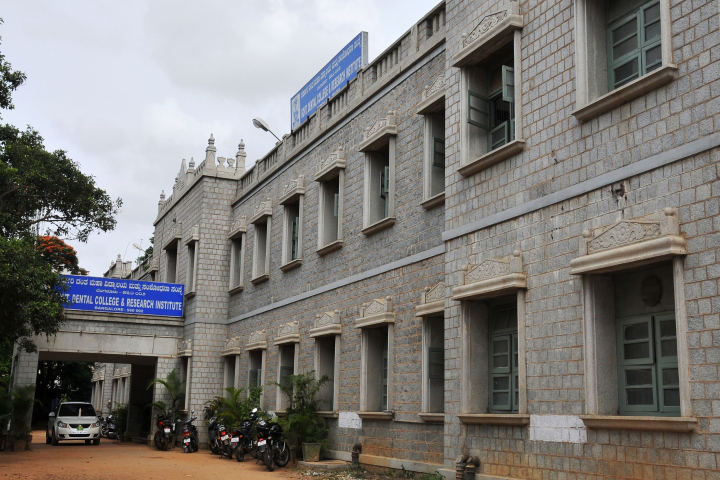 Courses Offered
Govt. Dental College provides undergraduate and postgraduate programmes in various streams with highly qualified faculties.
Bachelor of Dental Surgery or BDS from Govt. Dental College 
The BDS program comprises 4 academic years and 1 year of internship, leading to the award of a Bachelor of Dental Surgery (BDS) degree. A BDS degree is the basic qualification required to be registered as a dental practitioner, but students can also pursue post-graduate studies in a particular dental specialization.
Masters of Dental Surgery or MDS from Govt. Dental College 
The Institute offers MDS courses in two specialties, MDS course is for a duration of 3 years.
⦁             Conservative Dentistry & Endodontics
⦁             Prosthodontics & Crown & Bridge
⦁             Pedodontics & Preventive Dentistry
⦁             Periodontology
⦁             Orthodontics & Dentofacial Orthopedics
⦁             Oral & Maxillofacial Surgery
⦁             Oral Medicine & Radiology
⦁             Oral Pathology & Microbiology
⦁             Public Health Dentistry
Get in touch with our Experts
To know more about Admission Process and to get Free Admission Guidance!
Govt. Dental College, Bijapur – Admission Procedure
 The candidate must appear and pass the NEET entrance exam with the required percentile score to seek admission to the course.
Aspirants must complete the NEET BDS application form and pay the required fee by the deadlines. It is important that applicants carefully read the prospectus before filling out the application.
Following the announcement of the results, only qualified and suitable candidates will be granted access to the counseling process.
Following participation in the authorized counselling procedure, seats will be assigned to applicants based on rank and availability of seats
Documents to be submitted at the time of admission
Govt.Dental College Admission Under General Merit Category:
All Original Documents along with 3 sets of attested copies.
For UG Candidates
NEET Admit Card
Scorecard or Rank Letter
Class 10 certificate and marks sheet (for date of birth)
Class 12 certificate and mark sheet
Transfer certificate issued by the institution last studied.
ID proof (Aadhar/P.A.N Card/Driving License/Passport)
Eight passport-size photographs
Provisional Allotment Letter
Caste Certificate (if applicable)
PwD Certificate (if applicable)
Govt.Dental College Admission Under NRI Quota:
 Documents required: 
10th Standard marks list or pass certificate for proof of date of birth. (Original copy and 3 attested copies should be provided)
12th Standard or equivalent marks card and pass certificate. (Original copy and 3 attested copies should be provided)
Transfer Certificate. (Original copy and 3 attested copies should be provided)
Conduct Certificate. (Original copy and 3 attested copies should be provided)
Eligibility Certificate approved by RGUHS.
Migration Certificate. (Original copy and 3 attested copies should be provided)
Physical Fitness. Blood Group Certificate.
Photographs – 5 Passport Size and 5 Stamp Size.
Proof of Employment of Parent.
Original Passport and ID Proof.
Letter of sponsorship. (Original copy and 5 copies should be provided)
A residential permit from local SP and FRO.
No Objection Certificate from the Ministry of Health if applicable.
Govt.Dental College NRI Quota : Documents Required For MDS Candidates 
Original Copies Of
BDS Certificate.
BDS 3rd Part II mark sheet.
Medical Registration Certificate.
Internship Completion Certificate.
Photo identity proof in the form of a Certificate with an attested photo from the Head of Institution last studied/Copy of Passport/Aadhar Card/PAN Card/Driving License (Self-attested photocopy after verifying with the original documents).
Copy of: Birth Certificate for proof of age (if the date of birth is not mentioned in the HSC mark sheet/ certificate).
NEET Score Card.
Copy of Online Counselling Registration Certificate of Karnataka Medical Counselling Committee (KMCC).
Sponsorship Certificate from State Govt. If applicable.
Passport size Photographs 8 copies.
Govt.Dental College Facilities
Govt. Dental College provides hostel facilities to the students and has separate hostels for girls and boys. Students can avail the facilities of  sports facilities, etc. Some other facilities are a gymnasium, auditorium, library, cafeteria, transport facilities, parking facilities, Bank & ATM facility, and many more.
The library has a spacious reading hall with separate reading areas for undergraduates and postgraduates. It has a seating capacity of about 200 people and is well illuminated with natural light. The library is under electronic surveillance to ensure that no reading material is taken outside of the building.
The institution provides well-ventilated spacious hostels for girls and boys separately. The salient features of the hostel include a common room with a TV facility, indoor games, magazines, and newspapers. Laundry services are available. Air-conditioned rooms are availed on request. The food served to the students is assured to be of high quality and meets the nutritional quality standards. Particular focus is laid on providing a well-balanced, nutritious diet with varying food tastes to all the students.
Scientific Research Committee
Scientific Research Committe Al-Ameen Medical College, Vijayapur has been formed as follows. The research committee will look in to matter related to research activities.
A multigym facility with all the modern equipments like electromagnetic Tread-mill etc.available for all the students in the campus.
The Institutions have 03 omnibuses,01 Dental Mobile bus,01 Community Medicine van and 01 Car for the transport of faculty.
Qualified and experienced security personnels are employed by the Management for the safety and security of all the institutions, Hospitals and Hostels. The most of these personnels are Ex-Servicemen.
An Extension counter of Canara Bank near AlAmeen Medical College Hospital .They cater the need of the students and employees of Al-Ameen Medical Colege,Al-Ameen Dental College and Al-Ameen Fathima College & School of Nursing and their respective hospitals.
A cafeteria with modern facilities is available within the campus and is open for staff and students. it is open till late hours and serves healthy and hygienic food at affordable prices. The whole ambiance of the cafeterias is so soothing and delightful and has become a place for relaxation and discussion for the students.
The institution has an Auditorium to accommodate 950 Seating Capacity for Cultural and various other activities like Convocation, Stage Shows etc. The auditorium is spacious and well-ventilated. This auditorium, which is a regular venue for conferences, workshops, and seminars, has all the facilities to enhance the learning process and is a vast space that serves the diverse needs of quality education.
The Institution lays special emphasis on sports activities, Several students of the Medical and Dental college have represented the Rajiv Gandhi University of Health Sciences in various games and sports events.
The campus has facilities for all the out door games like cricket,football,volley ball,basket ball,throw ball with 200 mt.track.
An Indoor sports complex with facilities for carom,chess,table tennis and gymnasium is available.
Other Facilities
Medical
Computer labs
Laboratory
Hospital
OPD
Centre for Community Medicine
Blood Bank
Maintenance Engineering Department
Fee Structure at Govt. Dental College
The yearly fee structure of Govt.Dental College Mangalore for various medical courses is listed below.
| | | | | |
| --- | --- | --- | --- | --- |
| Courses | Govt Fees  | Private  | NRI Quota  | Others (Q Quota) |
| BDS | —— | —– | —– | —– |